Jenny Munro talks to Tricia Lawrence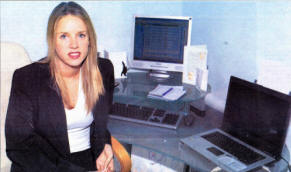 TRICIA Lawrence, 28, is the Managing Director of Dunmurry based PA and concierge service 'Personal Lifestyle Angels'.
The business aims to help stressed out people get back more free time in their personal lives by offering a service that does all the time-consuming day-to-day tasks.
Tricia is ideally qualified as her background includes working for eight years in the English headquarters of the Dale Carnegie Institute, which promotes positive thinking. She was a trainer, then business development manager, specialising in teaching good communication and leadership skills and stress avoidance techniques.
The idea for Personal Lifestyle Angels came as a result of Tricia's work, and her realisation that, for a lot of people, the worst stressor is the feeling you don't have enough time to do everything on that list.
Originally from Cambridgeshire Tricia lives locally with her partner Dawson Nixon.
My day starts at 8.30am. I check my emails and then go over what has to be done. I'm a writing down sort of person, so it does always begin with a list.
Then I work out how many things I can feasibly do that day, say five, and put the rest on to the next day's list.
The company is still in its early stages so I have been spending a lot of time on marketing and advertising and I liaise closely with a Public Relations lady who has been great at arranging lots of media interviews about the nature of my business.
It's only early days and I've had a fantastic response so far.
Personal Lifestyle Angels does all the jobs, tasks and errands in all aspects of life. I save my clients' time so they can spend their life doing the things they want to do.
Professionally this can be from taking calls, to booking appointments to organising travel, flights, hotels and meetings, to event and conferencing.
On a personal level - I may be looking after houses, pets, shopping, holidays to reminding them of all those special occasions and doing the things to make them special.
My business combines all the jobs a PA would do with the lifestyle services offered by a good concierge. I might be taking calls, getting quotes, organising travel arrangements and carrying out research or organising and booking theatre tickets and rounds of golf, walking the dog, taking deliveries to collecting dry cleaning and organising grocery shopping.
Personal Lifestyles Angels isn't just for the individual. The service I offer can be acquired by organisations for their key employees to help with them with the ever growing pressures of professional life, so they feel valued, and are able to
be more productive in the workplace.
I aim to take the stress out of people's lives by acting as their own personal PA. Rather than having a full-time PA, my staff and I are there to do the jobs when they are needed.
Throughout the day I will be carrying out the different errands and taking bookings and setting up meetings with prospective clients. I will have a chat with them and sit down and suggest tasks I could do.
The packages are customised, tailored to suit the individual's needs. At the moment I am busy building up relationships with local companies and researching the best deals available for me to offer my clients.
I run a responsive business so I have to be dedicated and prepared to work outside normal working hours.
In my spare time, however, I like to relax. I enjoy eating out, going to the cinema and socialising with friends. Most weeknights I watch the TV and usually head to bed around 11pm.
Ulster Star
30/03/2007