Jenny Munro talks to Allister Crawford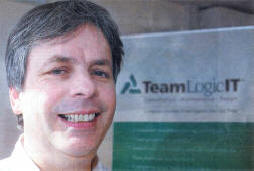 ALLISTER Crawford 52, operates the UK and Ireland Franchises of TeamLogic IT with his business partner Michael Osborne. Allister, who lives in Lisburn with his wife Lorraine, has been in the IT business for the past 10 years and ran his own firm in Belfast before entering into this new venture based at Crescent Business Park. The men met through the Business Networking International (BNI) programme and agreed there was a need for good quality IT support in Northern Ireland. After carefully doing their research on Teamlogic, they decided to take out the franchise. TeamLogic IT is a full-service partner which provides small companies with good level support that big corporate companies receive.
I wake up just before 7am, have breakfast and do some sit ups. This helps keep me focused. I live very close to work which is handy and means I'm normally in the office for 7.45am.
The first thing I do is check emails. Our headquarters is in California which is eight hours behind so there's usually a lot of messages regarding marketing, sales and technical items to read.
It is great to have the backing and support of a strong national and international organisation which allows us to offer a very broad array of programs and services.
Next I start to go through log sites. We manage, maintain and diagnose company's IT systems remotely 24 hours a day I look over the logs briefly and the engineers will then go into this in more depth. The advantage of this system is that we can be proactive rather than reactive and solve a problem before it has any affect.
I look for errors on the logs and make sure the back up of data is complete. The system we use is basically a virtual IT engineer 80 % of issues can be repaired without us actually being on site.
We take the time to get to know a business, assess their current technology challenges, and offer recommendations. Our on-call technical staff are here to respond - day or night - to get systems and business back up and running as quickly as possible.
We are proud to be servicing a wide array of small to medium-sized businesses in this market and are dedicated to providing the most up-to-date technical expertise available.
I look over the auto task manager system which monitors the technicians' time and materials - it makes sure everyone knows where they are meant to be and what is going on.
Then I reply to emails and speak to the engineers. There might be visitors on site who I'll demonstrate our technology to as a way of promoting the business.
I also approach firms and give them a free survey and appraisal of their IT systems and then put together a proposal. I go back with this and discuss the needs of the firm and hopefully get a sale - if I do the firm will sign a maintenance contract. The managers can sleep in their beds at night knowing that their data is protected.
I normally head home around 6.30pm and have dinner with my wife. In my spare time I am a keen gardener and DIY enthusiast.
I love swimming too as it helps me focus and keeps me motivated. I enjoy spending time with my family too. Most nights I like to go to bed around 11pm.
Ulster Star
09/05/2008