Jenny Munro talks to Andrea Floyd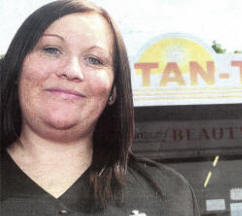 ANDREA Floyd, 26, is the proprietor of Tan Tropicz, a tanning and beauty business at Harmony Hill shops.
The fully trained beauty therapist is originally from Glasgow but now lives locally with her husband Russell and their little boy Tyler. Andrea always dreamed of running her own business when she worked in a salon and in her spare time would do treatments on friends and family. So when the opportunity presented itself she jumped at the chance and says it is a dream come true. Although expecting another baby in a few months, Andrea works full time with the help of her team and husband who she describes as a great support.
I wake up at 7am, get showered and dressed and then get my son ready for the day. Most days one of his aunts looks after him or, depending on my husband's working hours, he will take care of him while I'm at work.
The salon opens at 9am and I am usually there by 8.45am. I will switch the machines on and set the beauty room up preparing for appointments. We have three tanning booths, a beauty room and a nail bar so we provide a good range of treatments.
At the moment I employ two part time members of staff but when I go off to have my baby the girls are going to work full time hours. It's all working well so far and word of mouth is definitely spreading as we are very busy, which is great.
When I'm carrying out a treatment one of the girls or my husband if he is not working, will be at reception booking in appointments. Throughout the day I am checking the diary, advising clients, carrying out treatments, tidying up and ordering stock. I am always on the go.
When a client arrives for a beauty treatment I first of all have a consultation with them to find out exactly what they are after. I check if they have any skin conditions or allergies and then I carry out the procedure. I make sure the client is nice and relaxed and enjoys being pampered.
Tanning is also a big part of my business. As well as the spray tan there are also three sun bed booths for the customers to use. As a member of the Sunbed Association the booths are regularly inspected and we adhere to all the guidelines and regulations.
The nail bar is also a big hit with customers. We do general shaping and polishing and offer gel nails for people whose own nails aren't great. I check the person's nails and make sure they are suitable for the treatment, offer tea coffee or a soft drink and then start the process.
Most days are fairly similar but when we have a bridal party in we are exceptionally busy. I'm about most of the time so even when the beauty room is shut and the sunbeds are still open, if a customer really can't make an earlier appointment I will try to fit them in out of hours. Going that extra mile is the key to success I think.
At the end of trade I make sure all the machines are switched off and the equipment sterilised and the salon is clean and tidy for the next day. I sanitize the goggles for use with the sun beds and take the used towels home to wash.
When I eventually get home I love spending time with my family. Being seven months pregnant I am finding that I need to take it a bit easier. I don't really have any spare time but I love catching up with friends and family as much as I can.
Running a business is tiring work but it is really worth it and I am already looking at ways to expand the salon.
Ulster Star
08/08/2008