Jenny Monroe talks to Anne Millar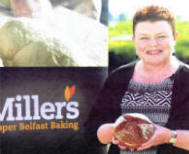 ANNE Millar, 46, runs one of Northern Ireland's leading specialist bakeries, Millers Bakery, with her husband Martin. The Lisburn couple have two grown up children Tony and Alana and two grandsons Ryan and Dylan. Anne was a housewife before embarking on a business degree seven years ago and then joined Martin in the bakery as business development officer. Miller's established 'Proper Belfast Baking' when it opened in 1997. The company produces over 150 products and supplies many of Northern Ireland's leading local retailers. The bakery recently relocated to new state of the art premises at Heron Road in Belfast Harbour Estate.
The alarm goes off at 5.30am and Martin and I get ready for work. We leave the house at 6.30am and travel to Belfast. Normally we are at the bakery after 7am but the morning staff start at 6am. We grab a quick cup of tea or coffee and then we have to go on a tour of the production floor once we have put on appropriate gowns.
After this Martin will start his Managing Director duties while I go back to my desk and usually try to tie up any lose ends from the previous day.
The administration staff start at 9am and then at 10am there will be a production meeting with key members of staff where we discuss how we hope to progress that day.
When this meeting breaks up I get on with my daily task of developing the business. We recently relocated and have re-branded too so I have been extensively involved with working with PR companies and the media. Nothing is ever set in stone in my job and everyday is varied but it is essential that I remain focused.
It is a hugely exciting time for the business. The relocation means not only creating extra capacity to meet the demands of an ever changing market, but also a chance to improve systems and work flows.
Customers lay at the heart of our company's innovation along with the ongoing expansion of our product portfolio. This is a great opportunity to build the brand yet retain our reputation of craft baking which has been unique to Belfast for generations.
Between 2pm and 4pm the tele-sales occur. We have over 250 customers who we supply bread to. During this time slot they phone their orders in and I help the tele-sales girls with the calls.
Many of our customers have been with us for years and they like to have a chat with me.
At 4.15pm all the orders should have been logged and I'll draw up a production sheet and take the information to the night shift bakers who work from 3pm - 11pm.
This gives me a chance to do another handover and we repeat the tour of floor and address any issues staff may have.
We produce a wide range of bread, pastries and cakes and are currently developing new products and promoting our new range of bread too. Like the yeast that reaches every part of our bread, passion permeates every part of Miller's Bakery. From the skilled handcrafted approach we bring to traditional baking, to the innovative new-style breads. All it is, is proper Belfast baking and to us, that's baking as it should be.
The office staff leave at 5pm and I work on with Martin and another member of staff, Maura Lockard, discussing business matters and how to excite customers.
Then after 8pm myself and Martin will leave and head back home. We are great music lovers and enjoy going to concerts in our spare time. We chill out and I'm normally in bed between 11pm and 12am.
Running a business is hard work but it is worth the effort.
Ulster Star
11/07/2008