Jenny Munro talks to Barbara Watson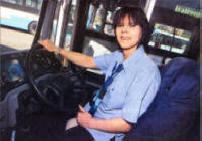 BARBARA Watson, 44, is a bus driver based at the Lisburn depot. She lives locally with her husband Neville and their three children.
With a passion for driving Barbara started off five years ago driving a flexi bus in Belfast but when her youngest child started secondary school, she decided to become a full time driver and transferred to Lisburn. Barbara says being a bus driver is the perfect job for her and she would encourage any other women who enjoy driving to consider making it their career. Translink are also keen to get more females to become bus drivers in what has in the past been seen to be a male dominated industry.
The time I get up at depends on the duty I am working. Every week I follow a different duty - there are 16 in total. - and this is the route I will be taking every day.
My earliest shift is at 5.45am and on those days I'm awake from 4.30am and then other days I might not start until 3pm. I would like to say I get a lie in on those days but with three children there is always something to do.
The first thing I do at the start of my shift is speak to my Inspector at the depot who allocates me a bus - there are different buses for different duties. I might be driving the regular vehicle or a double decker. Before I leave I check my vehicle over. The buses are refuelled every night, so I don't need to worry about that.
I have a module which tracks where I go and at what time and I have to put this gadget into a wayfarer machine, punch in my personal number which logs me on, and then I am ready to go.
My job involves picking up and dropping off passengers at bus stops and stations according to strict time schedules. We get good lengthy breaks - some may last several hours. This can mean I finish, have a long break and then return to work with my shift ending in the evening. If I have a break in the middle of my shift there's always something to do. There's housework waiting, or I walk my dogs and run about after my children. I might also prepare the dinner or do some errands.
After my break it's back to the depot to start all over again. As well as taking fares and checking passes people regularly ask to add credit to their Smart cards. Customers will also maybe ask me for information about the bus service and different stops and I try to help them as best as I can.
Once I have dropped off the last passengers I drive the bus back to the depot, check for any lost property and remove the module and my belongings and head home.
I have dinner with my family and get stuck into any household chores. In the good weather I like to go for a drive with my husband.
Usually I am in bed after 11pm.
I would encourage any other women out there who like driving and are interested in becoming a bus driver to go for it. It allows you to interact with a variety of different people and play a key role in serving the needs of your local community.
Ulster Star
18/04/2008