Jenny Monroe talks to Erin Stevenson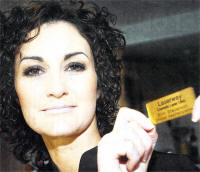 ERIN Stevenson, 31, is a clinical laser specialist based at Laserway in Bridge Street, Lisburn. Laserway perform laser hair removal and other laser treatments using state-of-the-art procedures and technology.
Erin is married and has two young children aged 3 and a half and 2. After college she worked as a beauty therapist on cruise liners before returning to Northern Ireland to work as a beauty consultant in a pharmacy. Having always had a particular interest in hair removal an opportunity presented itself for Erin to run the Lisburn clinic.
On the days I am working I get up at 7am, have breakfast and get the children ready to leave for about 8.35am. Both sets of grandparents take it in turns to look after the children so I'll either drive to Saintfield or Carryduff before heading to work for 9.30am.
It takes around 20 minutes for the laser machine to warm up and during this time I will prepare the treatment room and get ready for the first client at 10am. Laserway provides a hair removing service. It means our clients don't have to wax, shave or go through the pain of electrolysis in order to get rid of unwanted facial or body hair. It is a painless and finite method for the removal of unsightly and unwanted hair.
I guide the light from the flash-lamp to the treatment area. The unique system carefully filters this light in two ways to ensure that only light with the correct characteristics (wavelengths) is allowed to reach the skin. Hair contains pigment (melanin) that absorbs the light and converts it into heat. The hair transmits this heat into the hair follicle, which is then destroyed and rendered unable to produce a new hair.
To ensure optimal light transmission to the hair, a thin layer of gel (similar to that used in ultrasound examinations) is applied to the skin before treatment. I then move the handheld applicator over the entire treatment area exactly one applicator width after each flash of light. A typical session depends on what area I am working on. Treatment of the upper lip takes approximately five minutes, whereas the back or both legs take 60-120 minutes.
Tolerance of pain is very individual from person to person. No anaesthetics are required, and most people describe the sensation as similar to that of a rubber band snapping onto the skin. The light used is completely safe, visible light. Potentially harmful wavelengths are removed by the Filtering system. Before a session I will always talk the client through what is going to happen and answer any questions they may have. I always tell them when they are booking an appointment any information in which is beneficial to the treatment like it is important not to remove hair by plucking, tweezing, waxing or use of creams during the 13 entire four weeks before treatment. This ensures that as many hair follicles as possible contain a hair and can be destroyed by the light. Generally, no post-treatment care is necessary. But some people may benefit from using a soothing cream for a few days after treatment. It is also recommended to limit sun exposure and to use sunscreen (min. SPF 30) for a few weeks following treatment. Once the client is ready they save and I update their record and get the room ready for the next patient.
At the end of the day I turn off the machine and secure the treatment room before leaving to go and collect the children. We have dinner and I then the kids get a bath before heir bed time. My husband owns a small business so usually in the evenings I do some computer work for him. By 10pm I am tired and head to bed.
Ulster Star
26/12/2008