Jenny Monroe talks to Gary Wilson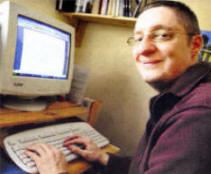 GARY Wilson is a writer and runs Longside Productions based in Lisburn. He moved here five years ago from Lancashire, to try his hand at the arts and recently decided to take the plunge and form his own group.
Gary also works as a Civil Servant and he has a three months old son with his fiancé Tracy. He has enjoyed amateur dramatics for many years and has a lot of experience in performing and production. He also writes comedy show sketches.
I am a Civil Servant during the day but in the evenings and at weekends I work on producing material for shows from an office in my house.
Most mornings I am up around 6am-6.30am depending on when the baby wakes up. I work 8.30am - 5pm as a Civil Servant and during my breaks I usually spend time writing up ideas and jotting anything that comes into my head into a notebook.
I leave work at 5pm and let my fiancé relax for a bit while I look after our son. We then have dinner and spend time as a family before I go into my office and work on upcoming productions.
A colleague comes along a couple of nights a week to my office to help me get things up and running. He helps me with lighting and technical issues and we bounce ideas backwards and forwards. I use this time to get inspiration for new projects. There is a lot of work involved in a production. I set up the company in September after I was successful in getting funding and I recently presented my first production at the Old Museum Arts Centre. The play was written by me and adapted from a short story by Lancashire author Stephen Cummings. In 60 minutes it tells the tale of one man's night out with the blind date from hell. Starring Canadian born actor Jeffrey O'Brien, this is a funny, if not true to life tale of alcohol and romance. This is hopefully the first of many productions and hopefully I will take this and other productions across to the mainland.
I work on ideas then make sure I have enough money to do it. Then once the funding is in place I will look for a venue and book it. I sort out what technical issues need to be addressed and then work on publicity including posters as well as designing programmes. There is a lot to do to get a show up and running. The cast has to be considered too although the first production only had one actor.
On the day that a new production is going to be shown I spend my time setting up. I'll be up from the crack of dawn. I am always anxious. A lot of people think it is all show biz and glamorous but behind the scenes they would get a different impression. I get the set ready and make sure the props are in the right place and sort our the sound effects and artwork. At this stage we are putting it all together. The nerves usually kick in as you are always hoping to get a good reaction from the audience. When you hear laughing in the crowd you generally know people are enjoying the show.
I am currently working on a showcase event for Christmas and am involved with lots of societies. I am busy networking too as I need to make contacts in the industry. I think the industry in Northern Ireland needs to be exploited more as there is some really good talent over here but not enough work. I would also love to do something for the 400th anniversary of Lisburn so there is plenty to keep me busy at the moment.
Ulster Star
05/12/2008