Jenny Munro talks to Gordon Martin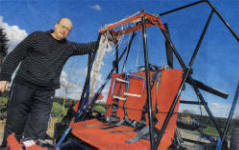 GORDON Martin, 46, runs Aerochute UK from his home in the Maze area. He is the UK and Ireland importer of the Australian Aerochute paraplane which is a two seater powered parachute. From the tender age of seven Gordon dreamed of being able to fly. In the eighties he enrolled with a flying club at Newtownards and learnt how to fly a Cessna and proceeded on to Microlights. He always wanted to buy his own microlight but the cost put him off. Then a chance encounter put him in contact with the managing director of Aerochute Industries in Australia, who was hoping to break into the UK market with an affordable and safe aircraft. Gordon is married to Catherine and they have three daughters.
A typical day in my life consists of me getting up early to check the weather. On a good day I'll be up from about 5.30am, have some breakfast and then maybe go for a flight in my paraplane. If its wet or windy I'll check my emails first of all and do administration work.
Being the main importer for the Aerochute is something very new and exciting for the area. It was a lengthy process to have the Aerochute model made legal in the UK but all the hard work has been worth it.
However, while I am qualified to instruct people on the Aerochute in Australia, I am still waiting for my licence in the UK. Hopefully it won't take too long but until I have my licence I book other instructors to take my clients out for training. Basically what happens is that people with an interest in flying microplanes get in touch with me to find out more about Aerochute, while I still can't instruct I can take them up in it with me to see what it is like. I head off to a remote area where the sound of the machine starting up won't disturb anyone. It's not much noisier than a motor bike but you still have to respect people.
Most of my flying happens at the weekends and evenings. Canfield is one of the locations I find perfect for lift off. There's a good big beach and its not too crowded. I transport the machine on an open trailer and meet up with friends who fly foot launch machines and paraplanes and we go flying together. If I'm meeting a potential customer I explain to them that the flight will depend on the weather conditions.
I am also an agent for flying related accessories and equipment. Through word of mouth people with the same interest will get in touch and at the moment this end of the business is keeping me busy.
The Aerochute is a simple and safe way to fly - it is a two seater powered parachute designed specifically with safety and ease of operation in mind. The design is virtually stall and spin resistant
and in the case of an engine failure it simply lands safely as a parachute would. It takes off from the ground with the parachute behind you.
Once the engine is started the propeller blows the canopy up and the Aerochute takes off within 10 - 15m. Climbing and descending is controlled by using power through a foot throttle. Steering toggles (similar to parachutist) are used to turn left and right. Landing is achieved by backing the power off and flaring the parachute just above the ground.
When you are on the paraplane you feel sense of freedom - my youngest daughter just loves it. The fuel capacity is 30L which can give up to two hours flight time.
When I return home I once again check my emails. In the evenings if I'm not out on the paraplane I spend time with my family It can be long hours but I love my work and the fact that my hobby is now my job.
Ulster Star
16/05/2008