Jenny Munro talks to Jackie Farr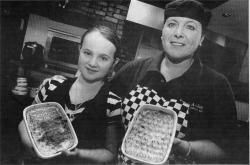 JACKIE Farr, 47, owns Snac-A-Jac hot food and sandwich bar, located at Knockmore Business Park on the Moira Road.
The Lisburn woman, who is married to Andy and has a 10-year-old daughter called Jessica, included in picture above, grew up in a catering environment as her father ran a bakery in Castle Street for many years. She studied catering at the College of Business Studies but ended up working in sales for 22 years.
Jackie knew her heart belonged in the catering industry and wanted to get back into it before she got any older. When the opportunity arose to open up her own business over four years ago, she seized the chance and hasn't looked back since.
Most mornings I get up between 6 and 6.30am depending on what I have to do that particular day
If I have a catering event I could be up as early as 5am so I can get to work and start preparing food platters. My husband takes Jessica to her granny's and then I'll pop back at 8.30am to take her to school. As well as serving hot food and sandwiches I also cater for buffets.
Providing food after funerals is becoming a big part of my job. I not only prepare and serve the food but I also take care of the mess after and make sure the venue is tidied after the food has been eaten. I take orders from factories and nearby offices for sandwich platters too. Fry platters are highly sought after for breakfast meetings.
When I arrive at work I make scones and sausage rolls and prepare the main courses. There's normally four or five main courses on the menu for lunch. While I am doing this one of the other girls comes in and sets up the salad bar. I also prepare the bacon and sausages for the breakfast rush.
If it quietens down I try to eat something myself. Customers can sit in or takeaway so there's generally a constant flow of people.
As well as serving the customers I might be preparing party boxes for children's birthdays at home or at leisure centres or out delivering food to factories in the nearby area.
After a busy lunch I start to order in food for the next day. I use fresh foods and I find people do appreciate this and will come back as the quality is good.
The shop closes at 4pm and then I spend a good two hours cleaning up and sorting the place out for the next day. I pop out at 2.30pm to go and collect Jessica from school and she sometimes comes back to the shop with me.
When the shop is clean and tidy I head home and make sure Jessica does her
homework and make her dinner. My husband will then come home and spend time with her while I wash all the tea towels and cloths from the shop and make a start on the accounts.
In between all of that I help Jessica get ready for bed. When she is settled I'll do some invoicing and check statements and prices, which is very important in my line of work. I record my takings and then, hopefully, by that stage I get a chance to go and have some dinner with my husband and maybe take a shower before watching TV. Some nights I am in bed by 9.30pm because I am exhausted. My spare time is spent with my family and friends. I enjoy going out for meals and watching films at the cinema.
It is hard going running a business but I enjoy it and you just have to keep at it. I really love what I do.
Ulster Star
15/02/2008