Jenny Monroe talks to Jacqueline Boyd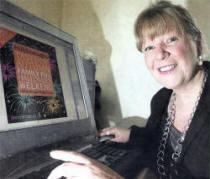 JACQUELINE Boyd, 54, is graphic designer from Hillsborough. Jacqueline Boyd Graphic Designs was founded in 1983 to offer a professional service in all forms of visual communication. During the past 25 years the practice has completed projects for many local and national markets. Just recently Jacqueline and her new business partner, Karen Hewitt, formed the company jkevents limited with the aim to create and promote new events.
I work from my studio at home so I like to get up early to begin work around 8.30am. Working form home means I have to be very disciplined. I check emails and look at my notice board to plan the day ahead. Before technology became so advanced I was always out and about around he country but now I can send emails and every thing is computer based, I do little mileage.
I take on one student every year so if they are in the studio with me I will be planning things for them to do. Taking on one student a year means I can devote a lot more time to them. Graphic design has been a very exciting career for me. There is never a dull moment in my job. I'll often be working with cutting edge technology, using my creativity skills, and have fun doing it.
Some of my clients date back to when I first started my design business. I hope this is due to my communication skills, paying attention to detail, and solving their problems through creative thinking with the end results rewarding to us both. Work activities include all aspects of graphic design such as client briefing, costings, administration, visual concept and presentation, finished artwork to final production and reproduction output. I could be working on corporate identity, promotional literature, exhibition design, brochures, point of sale, packaging, advertising, illustration, web design and PowerPoint presentations.
The beauty of my work is that I never know what I'll be doing next. When I meet up with a client I get a brief from them and then we work out budgets. I give them advice and then we brainstorm before coming up with an idea. I find out who they are aiming their product or service towards and I try to devise several concepts and illustrations and then present them to the client.
Once I have a design in mind it is checked by the client and signed off before I organise for it to be printed.
I also recently set up a company with my friend Karen. A few weeks ago we hosted our first major public event 'Hillsborough's Taste of Autumn, Family Fun Halloween Weekend' and have just brought to a close this year's www.mybestphoto.co.uk competition by the way of a prize giving ceremony with the Mayor and representatives from Lisburn Arts Advisory Committee at the Island Arts Centre.
We are already working on projects for 2009 and trying to find out what local people want to see. I've been busy looking into what grants are available and preparing presentations to get funders on board to sponsor events. We are still trying to establish ourselves but it is very interesting an we both are enjoying the challenge.
I usually finish working at 7.30pm. Sometimes it could be later if I need to meet a deadline. Most of nights are busy for me as I am a member of several community bodies. I really like to be involved in the local community. I am also a member of a book club and it provides a great opportunity to meet up with friends.
Ulster Star
12/12/2008