Jenny Monroe talks to Jacqueline Crockett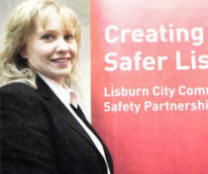 JACQUELINE Crockett is Communications Manager with Safer Lisburn (Community Safety Partnership). She lives in Lisburn with her husband and two children.
Jacqueline joined the Community Safety Partnership in March 2007. The partnership, which is funded by the Northern Ireland Office, has been working since 2003 with local organisations, groups and individuals in an effort to reduce crime and anti-social behaviour across the Lisburn area. Earlier this year the partnership was renamed Safer Lisburn.
I usually get up around 6.45am and leave the house around 8.00am to take the children to school. I normally get into work around 9.00am. The first thing I do is check my emails and my diary. As Communications Manager I am responsible for getting community safety information out to the public, you could find me out in many locations across Lisburn including, The Mall, Lisburn Square, Sprucefield or even Tesco.
In partnership with the PSNI Crime Prevention Officer, I run many public information campaigns throughout the year, for example , Theft from Vehicles, Stay Safe Stay Secure, Anti-burglary, Personal Safety and Bogus Callers in an effort to raise awareness. No one wants to be a victim of crime and by running the campaigns regularly and giving out advice and information, it raises awareness among the public to keep themselves safe, and I feel that the campaigns are very worthwhile.
Another part of my job is going out to local community groups and talking to them about community safety and most of these are done in the evenings. I am also responsible for managing the Safer Lisburn website, managing administration and finance in the office as well as managing communications for the Neighbourhood Watch schemes across the Lisburn area. I rarely have two days the same. If I have an event on, I spend time preparing literature and promotional items depending on the campaign. If not, I could be out at a meeting with a partner organisation to discuss new campaigns that are coming up, or making phone calls. I try to set time aside each week to do administration in the office.
Safer Lisburn is currently running three programmes under the new 2008-11 strategy, as well as the Communications Programme, which I manage; there is also a Neighbourhood Engagement Programme and a Youth Engagement Programme.
Safer Lisburn is committed to its main aim which is to reduce crime and anti-social behaviour and we are achieving this through the work of the three programmes. Building upon a wide range of work, which has helped reduce incidents over the past three years, safer Lisburn' aims to develop neighbourhood engagement, youth resource, communications and action group programmes to further address the causes and outcomes of anti-social behaviour and violent crime
I try to leave the office around 3.00pm, especially if I am going out in the evening to speak to a group, but sometimes due to events or meetings it can be later.
In my spare time I enjoy listening to music and reading. I really enjoy my job and find it very rewarding. If I can make just one person stop and think "I shouldn't have left those windows open when I was out yesterday, I should have closed them to keep my home secure" then my job has been worthwhile.
Ulster Star
21/11/2008