Jenny Munro talks to Jon Paul McShane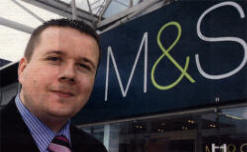 JON Paul McShane, 29, is manager of the new Marks & Spencer Simply Food store in Bow Street Mall, which is opening this week, creating 40 new jobs for the area. He has worked for the company for over 13 years, starting as a weekend sales advisor when he was an electrical engineer student. He decided to take a year out to work in retail and enjoyed it so much he stayed and soon worked his way up into management. He is married to Michelle and they have two daughters Cara, 2, and Katie, 1.
I wake up at 6.30am, get myself ready and help Michelle with the girls before leaving for Lisburn. I like to go in early and get myself focused.
There is a team briefing where we discuss what's happening in the store and this time is also used to help motivate the staff. The store opens at 9am but before opening I walk round the sales floor with the management team making sure everything is ready for trade. We also look at the availability of products. Then, if there is time I have some breakfast and get a quick glance over my emails. I take note of any company news which I pass on to the management team.
The managers make sure their staffing requirements are met and inform me of any staff issues. I spend the bulk of my day on the shop floor interacting with the customers. I like to be able to provide them with any information they require. People might want more information on products and it is good to be able to help them out.
The store is 11,000 sq ft and stocks over 2,900 food products including ready meals, fresh produce, sandwiches, salads and snacks. Shoppers can choose from a comprehensive selection of wine and champagne, while the in-store bakery offers an array of pastries, cakes and crusty breads freshly baked each day Specially trained baristas serve a wide range of refreshments in the brand new 55-seater café.
There is always a lot to do and the biggest focus is on the customers and new products being promoted and driven forward. I basically act as a role model for the staff. Mystery shoppers are regularly employed to come into the stores and after their visit I get feedback on how the store is performing.
Throughout the day I take calls on the sales floor - customers sometimes call with a query or head office, who I am in regular contact with, might want to check stock levels.
I attend a meeting in London every quarter with all the other store managers. There are also regional managers meetings throughout the year and I have conference calls with head office once a week to discuss sales figures and important information.
At lunch time I grab a sandwich from the store and take some time out before getting stuck back into things.
Most evenings I leave around six and a duty manager will take over if the shop is open late. At the end of the day there is a team briefing in terms of the day's trade and ways of motivating their staff. Any issues will also be communicated to the managers.
I drive home to Newry and have dinner with my family I like to spend quality time with them when I'm not working. It's something which is very important to me.
Ulster Star
02/05/2008