Jenny Monroe talks to Justin Bentley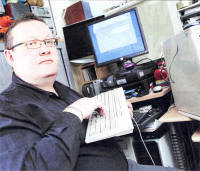 JUSTIN Bentley, 38, runs JCB Consulting Services Ltd. Originally from London he came to Northern Ireland to do a job for the company he worked for in London. When he was here he met a local girl who would become his wife. He decided to move to Northern Ireland 13 years ago and get married. Justin has over 20 years expertise in the IT industry working in Global, Regional and local companies in Northern Ireland.
I work from an office in my house and have done for 11 years so I am well used to it. I might start work at 7am.
Sometimes I am remotely fixing computer systems in a different time zone so I could be making phone calls and fixing systems in the middle of the night.
My business is about fulfilling people's IT needs, allowing me to lighten their IT burden. I can help my clients with initial purchase advice; money saving tips; system setup; network installs; parental advice for keeping children cyber safe for example.
I also provide consultancy services and am proud of my unique PC help service. If a customer has a problem or needs help achieving something on their PC a quick call or instant message to me is all it takes for me to then log into their PC and fix any problems or show them how to do something. They actually will see what I am doing on their screen so this service is a great way to get PC skills up to scratch. It is secure and I'll only be able to log onto the machine when the person enables me to. It is like having your own computer nerd at your beck and call.
As well as domestic clients I also offer a range of services for corporate users as I have a depth of experience providing support and consultation to a wide range of corporate clients from large multinational corporations to local sole traders.
A lot of people have issues in the evenings and so I'll respond to messages and emails as soon as I possibly can. I could be dealing with a problem like a printer not working to something like a company experiencing a major IT fault. I really enjoy helping people make sense of their computers.
I might be out and about on house calls giving advice to people on products which would best suit their needs or installing broadband or setting up parental controls. This is a big thing for me.
No two days are really the same so it is varied. I love technology so it is a pleasure to help people out and I volunteer my services at IT classes for the older generation.
I like to take part in charity work and help raise funds. With my company, when the customer pays their first invoice I donate £5 to Marie Curie Cancer Care which is my charity of the year. I think it is important to give back. When I finish work for the day I spend time
with my wife and wind down. I love cooking as I find it really relaxing. You can often find me in the kitchen making chutneys and marmalades and a host of other dishes that I make from scratch with fresh ingredients.
Having people around for dinner is a pleasure and it's great to have friends and family over. In the evenings I like to watch a good movie and listen to the radio before heading to bed.
I am passionate about the work I do as it is really satisfying seeing the people understand what I've told them. A light goes on in them and I get a real thrill seeing people get the same enjoyment out of technology as I do.
Ulster Star
19/12/2008