Jenny Munro talks to Karen Bleakley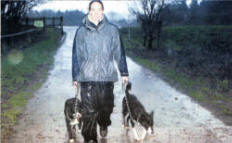 KAREN Bleakley, 21, is the proprietor of `Walkies!' - a local dog walking service. The Ballynahinch girl has a varied background - she holds a degree in sports science and is a trained primary school teacher. Having had experience working with all breeds of dogs in a dog grooming salon she decided to set up her own business and do something which she is passionate about.
The pet lover has a Collie cross called Tess and a Border Collie pup called Caoimhe and is a member of the Down District Dog Training Club and competes, with her dogs, in Obedience and Agility competitions. Karen is also a former Northern Ireland junior running squad member.
I wake up around 7am and get myself organised. I feed and walk my two dogs and then head off to my first appointment. I provide a personalised service that promotes the health and welfare of family pets by attending to their individual needs. The two main services that I offer are dog walking and a holiday care call-in service.
I am based in Ballynahinch but I cover the surrounding area and Lisburn is a major source of my business. Basically what I do is go to the client's house, collect their pet and put it into the back of my van, which has purpose built cages. Then I take the dog for a one hour walk in parkland. I usually only walk a maximum of four dogs at a time.
Individual attention and TLC are a priority in my business.
Once the dog is familiar with me I will let it off its lead so it gets good exercise. Most of the dogs are well trained but if it is a new dog I will spend time getting to know it and seeing how it behaves.
When I take on a dog I get its owner to fill out a consent form, give them a 'welcome pack' and collect as much information about the animal as possible. I also organise my schedule to accommodate the new client.
Some people are physically housebound and that's why they call me to walk their dog and other people who are out at work want their pet to get some exercise during the day.
People going on holiday who don't want to put their pet into kennels often use my services too. This means the dog stays in its own home and has a familiar environment - the most pleasurable place for a pet. It will cause less stress and also give the client peace of mind knowing that I visit their house in the morning and evening, feed their pet, and give it two 30 minute walks each day.
After a walk I give the dogs water, towel dry them and then take them to their home. Once the dog is settled I leave. In the winter my last big walk with the dogs is about 3pm, unless of course I have to look after a 'holiday care' pet. I love the spring / summer evenings as I can walk a lot later.
When I finish for the day I sort out my own dogs and then have dinner and collapse into a heap. In my spare time I keep the books up-to-date and work on promoting the business. I have got a lot of business from word of mouth and from people seeing my van out and about.
In the evenings I enjoy meeting my friends and going to church groups. I am a member of the Anahilt Dog Training Club and also go to another dog training class in Seaforde once a week. l am busy training my dog Tess to try and make it onto a UK team to compete at a competition in Germany in the summer. I go to bed between 10pm and 12am depending on how tired I am.
I love the outdoors and this job suits me down to the ground. It isn't stress free but it feels great to be out doing something I love. I enjoy the freedom of running my own business and getting to work with dogs every day.
Ulster Star
11/01/2008