Jenny Monroe talks to Karen McQuillan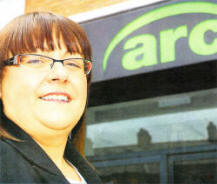 KAREN McQuillan, 36, is a showroom manager for arc lighting matters in Kingsway - a lighting and design outlet for contemporary and traditional living. She has worked in the lighting industry for the past 15 years and was delighted to be given the opportunity to get involved with the Kingsway business.
Karen lives in Dunmurry with her five-year-old son Karl.
I get up at 7am and get myself ready for work. I make sure Karl has everything he needs before driving him to school at 8am when he attends the breakfast club. Then I head off to open up the store where I work five days a week.
I switch on all the electrical equipment and check for emails. There is quite a lot of correspondence between contractors, suppliers and ourselves so the emails have to be checked on a regular basis.
Before the showroom is open for trade myself and Imelda - the store consultant -make sure that the showroom is ready for the customers and the products are shown off to the highest standard.
Throughout the day I interact with the customers giving advice and I am responsible for the daily running of the showroom. I work very closely with the ladies who own the company and we have regular meetings and briefings. Once a week there is a team meeting and I let the girls know what has been happening.
As well as serving the general public we also do a lot of contract work. Contractors and interior designers will ask us to design and provide light fittings and accessories for showrooms and buildings such as hotels.
I will meet with the contractor, give advice and provide quotes. I then go on site and have a look about and make suggestions.
I bring a catalogue to give them some ideas and they do usually appreciate finding out what lights I feel would be most appropriate for a certain room. We also have a consultation area in our showroom where customers can make an appointment to bring along their house plans and we can advise on the best type of fittings and accessories.
The customer finds our advice extremely helpful and as it is free, is keen to make use of this service. Sometimes we have unusual requests from customers and I try my best to track the particular style of item and order it in for them.
The client will then consider their options and will look at the fittings we provide. Once they have made their selection I'll check to see if the products are in stock and if not I place an order with our suppliers who usually have a delivery to us within seven to 10 days. Once it arrives the customer can collect it themselves or use our delivery service. If they need an electrician to wire the light fitting I can also organise this.
I am in regular contact with suppliers and attend lighting shows to get new ideas and keep up with current trends. Then myself and fife shop owners will sit down and plan what stock we should order in and make available to our customers. Currently we have a wide range of lights and accessories to suit most tastes.
Once end of trade comes. I sort the tills out and make sure everything is in its place before leaving for the day.
I drive to my childminder's house and collect Karl, go home and make dinner.
I like to relax and catch up with my family and most nights I am in bed by 11.30am
I really love my work - it has been a great challenge and a very exciting experience for me.
Ulster Star
20/06/2008