Jenny Munro talks to Margaret O'Hare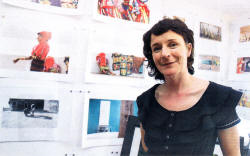 Margaret O'Hare, 37, is the director of Fine Art Imaging which is fronted by the Art For Walls gallery on Seymour Street in Lisburn.
The Dunmurry woman initially trained as a formal fine artist in Belfast and London and then spent time managing the photography departments or cruise liners. After twelve years travelling the world, she hung up her sailor's shoes and drew on her extensive portfolio to create Fine Art Imaging.
My morning always begins with a run then I'm primed to get stuck into the day. I moved to Dunmurry to be close to the gallery, and I love living there. It has jus the right mix of city and country. I like to hear the trains trundle by, yet five minutes along any number of routes out of the village I can be running along rural roads with beautiful scenery - it's perfect. Unless I have a meeting I head straight to the gallery. It's a wonderful space on the edge of Lisburn's historic quarter, and perfect for displaying art. Huge sash windows flood the place with light and there's an original 19th century stable yard out the back. I'm proud to be a small part of the cultural and historic redevelopment of this part of the city. You never know when a colourful parade might come thumping past, a circus is in town, or an art fair has blossomed against the railings just up the street.
My day largely consists of matching limited edition prints to clients. I am passionate about encouraging public appreciation of photography as fine art, and equally dedicated to providing affordable solutions for walls.
The website alone boasts over 2,500 images, broken down into categories, and I spend a lot of time with customers discovering what themes and colours they like, or what sort of space the work is to go into to help them through the selection process. It's very important to me that my private clients walk away with an image that they have simply fallen in love with. It should give them pleasure to live with on their walls.
I always enjoy getting to know the visitors to the gallery, and I never cease to be surprised at the sort of images people respond to. Art is very much about personal choice. I often hear the phrase 'oh I don't know anything about art!'. to which I just laugh and tell them that is my job -their job is simply to decide what they like.
I produce all the work here in the gallery to order, so a large part of my day involves the actual printing onto canvas or photo paper. I've teamed up with a local framer, and he might be in and out, dropping completed work off.
I also produce a lot of images for corporate spaces, and this will involve a consultation out of the gallery. It's a long day, but I'm doing something I love.
Sometimes I might be out in the evening to look at a new restaurant or attending a briefing with an interior designer on the selection of pieces for a larger project such as a hotel or office building. I have to say that designers and developers do appreciate the service I provide. I manage to complement their design process without compromising their budgets. When I studied sculpture, my brothers used to say I was a 'hobby-horse mechanic' - a local phrase for not really having a useful function in society. However when I discovered my passion for photography. I realised I did in fact provide a very useful service that people valued and enjoyed.
" The gallery website can be found at www.fineartimaging.co.uk, and Lisburn's Art On The Rails program is held around Castle Gardens on the second and last Saturday of every month.
Ulster Star
30/05/2008