Jenny Munro talks to Marian Doncaster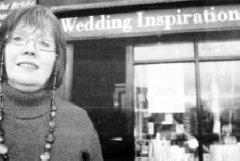 MARIAN Doncaster, 50, owns 'Wedding Inspirations', in Lisburn. She worked for the South Eastern Education and Library Board for 32 years before setting up her business, which is located on Bridge Street.
Having always been interested in arts and crafts and making cards, Marian took the plunge and started trading two years ago and the shop has gone from strength to strength with her recently being named as Wedding Stationery Retailer of the Year for Northern Ireland.
Marian lives in Lisburn with her husband Alan and they are temporary foster parents.
I wake up at 7.30am and get ready for the day My husband and I are foster parents so if we are looking after a child our routine will obviously vary. This is a very rewarding experience and running my own business means I am more flexible. When I get to the shop I turn on all the appliances and make sure everything is in its place. I will then start to go through pending orders. The purpose of the business is to provide customers with a flexible approach to choosing their wedding stationery The main focus is on the customer's specific requirements. While the shop stocks ready-made invitation cards, many brides prefer to have the cards individually designed. A wide range of designs and samples are available in store.
For those brides-to-be who wish to make their own stationery this is not a problem. A large selection of craft cards, embellishments and accessories are available to purchase. Advice and support is available on how to make up items such as invitations, order of services, thank you cards and place settings. The shop also sells general card making materials, jewellery making accessories, fascinators. made to order jewellery. horseshoe's, garters, guest books, and confetti. We pride ourselves on stocking everything the bride-to-be may need to help make her special day perfect.
The customers come into the shop. have a browse at the cars on show, and then tell me what they would like. They will spend at least an hour with me going through what they have in mind. I will give them advice and show them examples of my work. Once they know what they want, I'll work out a quote and if they are happy with it they will come back and tell me to go ahead with their order, which will normally take between two and three weeks to complete.
All the materials I use are sourced locally from the Gold Link Stationery company I regularly check my supplies and see what stock is required. I will ask the customer to proof read the cards before I sign them off to be printed. Once the stationery is ready I let the customer know and they'll come in to collect it. They normally leave with a smile on their face.
I do get a lot of satisfaction when I see happy customers. It really is very different from my old line of work. I close the shop at 5.30pm and go home to have dinner with Alan. If we do have a foster child with us, I'll make sure they have everything they need and are settled for the evening. I might watch TV and do some craft work also.
During the last two years it has been good to see the business grow and to play a small part in helping the bride and groom to enjoy a perfect wedding day. I always said I wanted to do something less stressful and from the age of 40 I decided that by 50 my life would have to change direction, and it certainly has. I have my dream job and enjoy going to the shop every day.
Ulster Star
22/02/2008