Jenny Monroe talks to Matthew Gillespie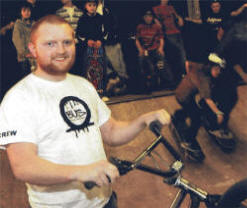 MATTHEW Gillespie, 21, who is the Chairman of the Belfast Urban Sports Association (B.U.S.) which has a sports facility based in Dunmurry.
B.U.S. is a charitable organisation and its survival relies on the voluntary hard work of its committee, the support of members and generous donations from sponsors.
The fantastic indoor urban sports facility, is the only venue of this type in the country and it serves as the headquarters for the association and its governing body the U.S.C. (Urban Sports Collective).
An urban sport can be a multitude of activities although the more popular are known as Skateboarding, BMX and Inline Rollerblading.
Enthusiasts of all ages hone their skills at the specialised base situated at Unit 13 Kilwee Industrial Estate, Upper Dunmurry Lane.
A typical day for me consists of waking around 8am and going to read emails and planning my day. Then I make relevant phonecalls and liase closely with the Secretary. We discuss what we need to plan, arrange meetings and make sure we have relevant information for the meetings and presentations.
B.U.S is a group of enthusiasts from the urban sports collective who are championing the cause for permanent facilities in Northern Ireland. We work very closely Belfast City Council, to secure major funding from Sports NI via the Lottery Fund. The money will be utilised to build the first ever concrete urban sports plaza here. To continue moving forward and developing the sports we need to be actively seeking advertising sponsorship for our headquarters, our website and numerous events we will be hosting and attending. This keeps me very busy. I could be designing leaflets or working on marketing campaigns throughout the day as well as coaching and supervising at the sports facility during the night and at weekends.
Our unique complex is used for many purposes due to the great interior design and layout. We can facilitate music events, art exhibitions and alternative movie premieres which all complement the contemporary urban feel of the venue. As an addition to our training programs for groups the complex is also available to rent for functions or private parties. There are seven directors and three volunteers who help run B.U.S.
Our headquarters are situated in Dunmurry and we are opened Wednesday to Friday from 6-10pm. On weekends we open from 12-6pm and have regular demonstrations and monthly jams. We can cater for groups of up to 30 and offer taster sessions right through to sports specific programs. As well as coaching I organise agendas and find out what issues need to be raised at the meetings held every other Monday. When I am running the skate park I usually arrive about 5.45pm, turn the equipment on, print off a sign in sheet, sort out a float for the till, do a safety check ensuring there is no dust on the ramps, and make sure there are cold drinks available and check the toilets. The young people will arrive, sign in and will be given a security band to wear. I ask them if they have ever been before and if they haven't I'll try and pair them off with an older skater or coach. I check that all the under 16's have a helmet. I check for spills and accidents and am responsible for the general maintenance while I am there. Then once all the young people leave, I tidy up and secure the premises before heading home. I'm never in bed before midnight.
Ulster Star
31/10/2008