This week Jenny Monroe talks to Nicola Marks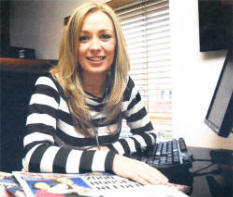 NICOLA Marks, 31, is the founder of 'I vision PR' based in Lisburn. She started the company in 2006 to serve local and national businesses and brands with innovative solutions to the challenges faced by today's competitive market place. It has become a successful agency in a short time. Nicola, who lives in Lisburn with her fiancé, has 10 years experience in media industry working for some of the biggest names in publishing, advertising and PR both in London and Northern Ireland.
I normally wake up at 8am and get ready. I don't start until 9.30am and when I arrive at my office I have a cup of coffee before checking my emails and looking at my diary to see how my day is planned.
Every day is different and depends on the campaigns I am working on. For example, some days I could be setting up photoshoots and organising models or guiding clients through media interviews. Other times I might be in meetings with clients or working in my office on strategies.
My business comes from existing clients but I adding new ones as well. Sometimes new clients will approach me but I do spend a lot of time making the connections myself.
What I do depends on the brief - whether it's a short burst campaign, a long term strategy or a media campaign encompassing PR, design, print and advertising.
Clients are treated to a hands on approach from the planning stage of their campaign right through to the execution and evaluation stage. This guarantees an in depth knowledge of the client's business and requirements while ensuring that the campaign exceeds its goals and expectations and stays within budget.
During the initial meeting with a client about a new campaign I find out their needs and goals and what they want to achieve. An in depth strategy could take me days to complete but smaller ones can take me a matter of hours. I then present this to the client and once it is approved the proposal will be signed off and the process of making the campaign a reality begins.
I work on press releases, images, plan launches and contact the appropriate people in the industry. I have a very good relationship with the press. As well as the PR side of things I might be involved in advertising as some campaigns require both elements.
PR work is a lot less glamorous than some people might think. One particular incident that comes to mind is me having to stand in a muddy field in the freezing cold during a photoshoot!
I have to be flexible too as my job does involve some evenings and weekend work as a lot of my clients are consumer based and of course the majority of consumers are free at these times. On other nights I get home at 5.30pm so it does balance itself out.
The best part of my job is when I see a campaign come to life in the media. It fills me with a great sense of achievement.
At the end of the day I try to finish off as many things as possible. Some nights I work on strategies at home but I try not to take work with me.
I will either head to the gym or home to have dinner. My fiancé and I are busy decorating our new home and as we are getting married next year I am starting to plan the wedding too. It's all go but yet very exciting at the same time.
I really love my job. It is wonderful to get up in the mornings and look forward to going to work.
Ulster Star
14/11/2008