Jenny Monroe talks to Paul Murphy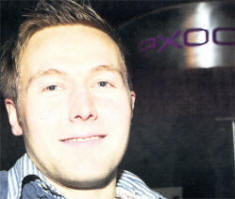 PAUL Murphy, 27, is the Manager of the Lisburn branch of Exodus a Youth Discipleship Organisation that exists to encourage and equip young people aged 15-25 to be committed followers of Jesus Christ'. Paul was born in Gran Canaria and moved back to Lisburn when he was 13. After studying at Queen's University he attended Bible College in Dallas, Texas.
When he was in Dallas he knew he wanted to go back home to work and out of the blue he received a call from the bosses of Exodus to say there was a position available with them and after the necessary procedures Paul was appointed Manager of the Railway Street based group which opened last April.
He is married to Jennie and they have a six months old baby boy Noah Pablo.
I get up most mornings around 6.30am. Sometimes I do try to go to the gym. I am normally at work by 7.30am as there is an early morning cafe which provides devotional space for people. This runs until 9am. It provides a quiet place for those who want to read their bible and pray. Students often drop in before heading to school or college. Most days do differ and the majority of gigs and special events are held towards the end of the week.
After the morning cafe I make a start on office work and attend meetings. These could be with local youth leaders or church groups. On a Friday there is a staff prayer meeting from 9am until 10am.
I usually spend the best part of the day doing administration work, answering phonecalls and organising events. We run quite a few programmes here in Lisburn and I am always planning ahead. We work alongside churches and local communities as we encourage young people to come along and find out more about Exodus. The vision had always been to bring the opportunities of the venue to a wider audience. In October 2007 we moved into offices in the old Lisburn library. The opening of the centre is the realisation of a vision to work alongside churches to see discipleship be the primary focus of the Christian community.
We also have a branch in Coleraine and both provide a positive fun alternative and a great resource for youth leaders as they connect with young people. These alcohol free environments range from high energy with bands, dancing and interactive games, to relaxed cafes that provide acoustic music and an excellent place for deeper conversation.
On a Friday coming up to around 3pm I start getting ready to up for the last up gig. We provide cafe facilities and I spend my time supervising. There is a big team of volunteers onboard for the different programmes which is great. As well as interacting with the young people I'm behind the bar serving soft drinks and food. This closes at 5.30pm and then once
everything is tidy and secure I am finished for the day. On a Saturday I am off in the morning but will come in to work at 6.30pm. I'll do sound checks and hold a volunteer reading session from around 8pm. Then at 8.45pm the doors open and people come along to the different events.This normally finishes at 11.45pm. Most nights I head home at 5.30pm and I'm met at the door by my wife and young son and then we have dinner. I spend most of the evening with them and I love playing with Noah and getting him ready for bed. When he is asleep my wife and I relax and watch TV or a movie. I might do some studying before I go to bed too.
Ulster Star
27/11/2008