Jenny Monroe talks to Rachel Hart of BrownCow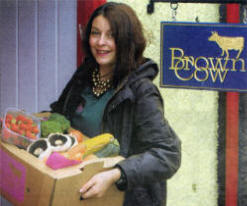 RACHEL Hart , 35, runs home delivery service 'BrownCow' - an online venture which offers a unique service that brings fresh local produce and meal hampers straight to your door. Rachel swapped the bright-lights and a successful career in advertising for the green fields and muddy wellies in Co. Down. She relocated here several years ago and soon realised there is an abundance of good food available locally but was equally frustrated by the amount of time and effort it took to get it all together. It soon occurred to her that there was a gap in the market in this area for a company which could source the finest of all these products, package them together and deliver them to customers' own doorsteps. And so Rachel embarked on a complete change of career and lifestyle. Eventually her hobby became her job and Rachel moved here permanently and started a mission to find the best local suppliers through St. George's Market, and recommendations from chefs and local foodies.
On delivery days I drag myself out of bed at 6.15am, shower, have breakfast and get ready to leave for 6.45am. I go and collect materials from my supplier who I will have placed orders with the day before. I then head back to pack the boxes, print off orders and sort out delivery routes. This usually takes me up to lunch time. It's true I don't grow the produce myself, and I don't fish the seas myself, or rear livestock myself, but actually I think that's to my customers' advantage because I .can devote all of my time and energy in sourcing from different suppliers and making sure their quality is up to scratch, and making sure I offer plenty of variety.
The business started off selling a few Sunday lunch Hampers, and BrownCow has gone from strength to strength with plans well under way to offer a series of dinner party kits from the start of next month.
Local people have really embraced the concept and the feedback has been fantastic. My bestseller is the Sunday Lunch hamper -which is now available with a choice of free-range chicken, organic leg of lamb, or organic beef joint. I think people just love the idea of having all the food and all the ingredients they need to make the perfect meal but without all the inconvenience of having to run from one place to the next to get it.
More produce and suppliers are being added to the online shop constantly, including Suki Teas, Clandeboye Yoghurts, Produce from the Dunleath Estate in Ballywalter, Organic vegetables from Anne Stone at Millview Farm, Organic Meats from Churchtown Farm in Strangford, Glastry Farm Ice Cream and Chickens, Turkeys and geese from Marlfield Farm in Portaferry, to name a few. At about 1.30pm I head off on my delivery route. Each day I cover different areas. I mark off the locations as I go along and will have a chat with the customers if they are home. Some people will arrange for me to drop off their box in a particular place if they are going to be out when I call. This takes up the whole afternoon and I usually get back home around 5pm. I'll check my web page www.browncowfoods.com and my emails to see if any orders have been placed. Then once I know what orders I have for the next day's delivery route I will ring my suppliers with the details and then print out delivery route as well as recipe suggestions I put in with the boxes. I will then have some dinner and probably do a some administration work. It really is a full on day and by 10.30pm I am ready for my bed.
Ulster Star
26/09/2008