Jenny Munro talks to Richard Nelson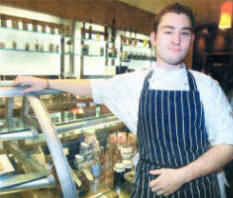 RICHARD Nelson, 25, owns 'Prima Gusto' coffee house and delicatessen on Harry's Road.
The young entrepreneur is a trained chef and started his career in the Plough in Hillsborough eight years ago before going back to school and finishing his education. On completion of his catering studies he worked for six years in various restaurants in Edinburgh including the renowned Michelin starred Balmoral Hotel. He was then offered a position in one of Gordon Ramsay's exclusive restaurants in London but instead got involved with a wine merchants business set up by his family. Last year Richard decided to get back into the world of cooking and Prima Gusto, meaning 'first taste', was born.
I wake up each morning at 6am, shower and turn the TV on to watch the news. Then I head downstairs and have coffee and a chat with my dad.
Prima Gusto is literally a stone's throw away from my house so I just dander down to the bottom of the yard and open the premises up around 8am. If there is a lot of baking to be done I go in earlier.
I switch on all the appliances and machines and get myself organised before the staff arrive. I ensure the coffee machine is at the right temperature - so many factors influence a cup of coffee including humidity levels, room temperature and even pouring temperature so I make sure everything is checked and adjusted accordingly in order to create good consistent coffee for my customers. Coffee is something that I am very passionate about.
The staff start to arrive and get changed into their work clothes. Then the scones, which are baked freshly each day, tray bakes and cakes go into the counter out front.
I sit down with the Manager (my sister Emma) and discuss the plan of action for the day and I have a meeting with the Executive Chef to discuss what meals and specials will be available to the customers.
There is always a vegetable, meat, chicken and fish dish on the menu. All fresh ingredients such as meat and vegetables are home grown produce and purchased locally.
Two chefs work at any time. While one is preparing for the day the other will be starting the breakfast orders. The chefs will then get a quick coffee break at 11.30am before the lunch rush begins at 12 until 2.30pm. After this busy time an extensive snack menu, which includes salads and soup, is available and runs all day. Once the lunch rush has died down I might change out of my cooking clothes and go out front and help serve customers or do some paperwork. I have to keep on top of placing orders with suppliers.
At around 4.30pm the staff start to clean the premises and make sure all the equipment is sanitised. Then at 5pm, once the shop is closed, we will all sit down and discuss the day.
The staff leave and I'll maybe stay on a while longer and then once I have finished my work I lock up and go home and have dinner with my family.
I'm usually exhausted in the evenings but in my spare time I enjoy being part of a motor cycling club. In fact I am preparing to go on a 10-day tour of France and I am really looking forward to it. I also like going to rallies and I navigate for a couple of drivers. My father was the 1979 Irish Tarmac champion so I was really born into the sport.
Most nights I am in bed around 11.30pm.
I really enjoy working at Prima Gusto -it's very hard work but I get so much enjoyment from providing my customers with restaurant quality food from a coffee shop delicatessen.
Ulster Star
04/07/2008