Jenny Munro talks to commercial photographer Rob Durston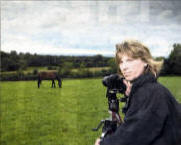 ROB Durston, is a commercial and fine art photographer. Originally from Canada, he now lives near Moira with his partner Olivia. After commuting for two years from California where his business was originally based he moved to Northern Ireland last January.
I wake up after 7am and put the dogs out. We have five at the moment as my girlfriend is a vet and we foster animals. Once I've taken care of the dogs I have breakfast and then go into my office at home.
I check out my website and make sure it is running ok - this is important as basically it acts as my calling card. I update images and deal with inquiries and this keeps me busy for about an hour or so.
A lot of my job is largely promoting myself and finding new clients. I work with many design agencies and I will email them my latest news and images of what I've been working on.
I work all over the country on location shoots so I am never in the one place. The ad agency will contact me with an idea and we will run through it and create a brief and decide what is actually possible.
I'll take the notes back to my office and speak with my staff, and come up with a quote for the job. I'll be in talks with the agency who then goes back to their client and then they usually will come back to me with a date to shoot the pictures. We sort out all our own production work and this includes booking models, contacting estate agents (if we need a particular venue), sorting out hair and makeup stylists - there is a lot of background work to be done.
On the day of the shoot I will check all the equipment with my assistant before we leave and we bring back up's with us too. I organise everyone - if models are being used then when they are getting ready I go off and light up the sets and take test shots. I show the test images to the art director and then I get the models on set and direct them. A shoot could last for hours depending on the complexity.
While I'm shooting pictures my assistant processes the images on a laptop and we go back to my office and edit each shot and produce a web gallery for the client to choose from. This can take a few hours up to a day or so depending on the shoot.
The selected images are saved in a file format and uploaded to our servers so the client can download them. If I'm working on a big bill board campaign I might have to drop images into another and spend a bit longer retouching. Once I've finished retouching and the client is happy, that's my job done and next thing to do is invoice the ad agency.
I do spend a lot of time running around meeting art and creative directors across the country north and south as well as travelling to America regularly to do some work.
In my spare time I like to do fine art photography. This means earlier starts and going across the country with my assistant looking for interesting shots like rain and clouds. I do exhibit my work here and in North America. I check on my work in America by making phone calls in the afternoon and keeping in touch with clients and tracking down payments.
In the evening I have dinner and chill out with Olivia. I just love my work and this land. I'm really happy here and I have had a great response to my work as not a lot of people do what I do.
Ulster Star
29/08/2008