Jenny Monroe talks to Roisin Brogan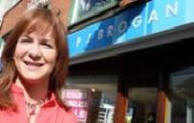 ROISIN Brogan is an optician and works in her family business P J. Brogan opticians in Bow street. Her grandfather Paddy started Brogan Opticians in 1961. Before that he had Brogan's Pharmacy and invented Brogan's Bronchial which became a legendary cough mixture around Lisburn.
Roisin says her dad Peter, who retired recently has always been an inspiration to her and encouraged her at every opportunity when she started to show an interest in following in his footsteps. Peter developed the business into one of the busiest practices in Northern Ireland.
Roisin qualified from Glasgow Caledonian University in 2000 and went on to work in Govan, Glasgow for her pre-registration year. She then returned home in 2001 to locum for Brogan's and various other practices all over Ireland and mainland UK. During a year out travelling in 2003 she also worked as a dispensing optician in Sydney, Australia. Following in her family's footsteps, she joined Brogan's full time in January 2005. Roisin also enjoys going to the gym and playing hockey. Rosin is married to Chris and they have a nine month old baby daughter Isla.
I get up at 7am, get ready for work and Isla gets a bottle and is then put into her car seat with her pyjamas still on. At 8am I drive to either my parents' or Chris's parents' house -they take turns looking after Isla while I work three and a half days a week. They usually have breakfast ready for us when we arrive.
At 9am I go into work and check the diary for the day ahead and catch up with everyone. Most of the staff have known me since my school days at Friends' when I used to come in and help during the school holidays.
Now when I go into work I feel at home as there is always a bit of banter going on.
Patients are booked in every thirty minutes -this can range from someone who wants to change their look with a stylish new frame to a person with a problem with their eyes and needs referred, to a contact lens fitting.
I really enjoy fitting 'Nocturnal' contact lenses which you wear while asleep then take out in the morning and have clear vision all day without any lenses or glasses. I love the wow factor patients get when they first try these. They are a safe, reversible, non-surgical alternative to laser surgery and we were the first practice to start fitting them in Northern Ireland three years ago. At fpm I grab a sandwich from a local bakery and get something for dinner in the local grocery store. Then at 2pm I head back to work. One of the best things about my job is that I can get to help people choose a new frame that totally transforms their look. There's nothing better than selecting a stylish new frames which makes someone more confident with their image and can sometimes even knock a few years off.
I'm very lucky I really do enjoy my job. I love working with people and the people in Brogans' make the practice.
It's very rewarding to help people.
At 5pm I leave Lisburn for home and at 5.30pm I go for a run while Chris picks up Isla after work. I am getting ready for the hockey season starting again at the end of August. I play for Lisnagarvey.
At 6pm I shower then Chris feeds Isla while I make the dinner. We have our meal together and then usually play with Isla. I give her a bath and we have a cuddle in front of the TV for a while before she goes to bed.
The rest of the evening we like to chat and chill out with the obligatory cup of tea and watch TV before going to bed.
Ulster Star
15/08/2008