Jenny Munro talks to life coach Shona Wilson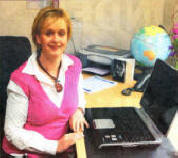 SHONA Wilson, 33, is a fully trained Life Coach who runs her own business called Sensoricoaching. She lives in Lisburn with her husband Jonathan and children Nathan, 14, Megan, 8 and Benjamin who is almost 5.
Shona spent a few years in Australia where she trained in Neuro Linguistic programming (NLP) which works on the premise that the words we use reflect an inner subconscious perception of our problems. Shona went through some very difficult times in her own life and says self-help got her through it. On her return to the UK she qualified with the Coach Academy London where she received her Advanced Diploma and soon became a licensed trainer for the coaching company.
MY day starts at 6.15 am when I go out for a run. Then I come back home, shower and get the kids ready.
I sort out breakfast and make the lunches and am out of the house doing the school runs by 8am. I then return home for my first appointment, which is normally around 8am. I conduct personal and business coaching and offer training to people to become Life Coaches and NLP Practitioners.
I am a Life coach or a gap coach, in any aspect of life. My expertise is in relationships with Self and parent-child, husband-wife. I'm all about creating the life you want to have and getting inner and outer balance.
Through life coaching you learn how to believe in yourself and reach your full potential. During life coaching sessions I ask my clients lots of powerful questions which allow them to gain astonishing insights into their world and thoughts. Whether you are having a problem with health or business I can help you set realistic goals to turn circumstances around.
It's all about knowing who you are on the inside, opening your heart and embracing what is going on in the here and now. You have to challenge your beliefs to free yourself from your self imposed prison and learn to live in the moment. A lot of my clients have limiting beliefs or fears which hold them back. They know what they want but something is in their way. If you say you can't you can't, but my coaching helps people train themselves to think positively and turn off that niggly voice in their heads. I help them focus. Motivating is a big part of my job. I 'dig' until they know what it is they want and one day it just clicks with them. On average most of my clients will speak to me over the phone and I do regularly hold group coaching sessions using the SKYPE programme - this is a great way of facilitating the coaching process. Of course I can answer questions from group members privately after the session.
A particular topic will be decided on and as I conduct the coaching process the members write down their answers. They can ask questions but most don't and will instead save them until they have a private session.
Word of mouth helps keep me in business to be honest - life coaching is very popular in today's society. When I'm not coaching I'm developing programmes and out networking. I like to get involved in programmes for women in business for example.
I collect the kids around 2pm and then, while they are looked after by family, I attend yoga classes three times a week This is my time and is very important.
Family time is at 7.30pm when we all sit down and enjoy a meal and discuss our day. In the evenings I might be out giving a talk to a group or meeting up with the Coaching Circle I am involved - it is a support network for life coaches.
When I come home I check on the children and make sure everything is ready for the next day. I love to be with people who know they have more to give and want to make a difference and make it happen. Its a journey we go through and you're never alone
Ulster Star
27/06/2008