Jenny Munro talks to Stephen Crouch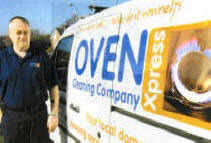 STEPHEN Crouch, 50, runs oven cleaning company 'Oven Xpress'. The Lisburn man previously worked in the retail lighting trade before starting up his business.
He originally got the idea for the company after listening to a radio show when the presenter was talking to a guest about oven cleaning. Stephen agreed that it wasn't something he was familiar with and decided to do some research and see if there was a demand in Northern Ireland. After training in Cambridgeshire he started up a year ago. Stephen is married to Karen and they have two grown up children.
A typical day starts at 7am, when I wake up, get ready for work and have breakfast.
There is a specially designed heated tank in my van which has a timer and starts to heat up just as I am getting myself organised. I check my schedule and make sure I have all the appropriate solutions and equipment before I head off to my first job. Normally I work within a 35 mile radius of Lisburn.
When I arrive at a customer's house I make sure I am at the right address, introduce myself and then take a look at the oven. I tell the person what I am going to do and then I'll get started.
I use only environmentally friendly, non-caustic cleaning products in people's homes. My system uses a custom designed vehicle mounted solution tank to clean all removable parts, such as oven shelves, grill pans. I provide the highest standard of domestic oven cleaning. With my specially developed equipment and systems, I pride myself I provide the complete oven cleaning service.
All removable parts are taken out of the home and placed in a special de-carbonating tank in my Oven Express van. Inside I work on the appliance itself with biodegradable cleaners to restore the sheen back to the oven - glass doors are taken apart and cleaned on both sides. When that's done I go back out to the van and get the items out of the tank and rinse and dry them before putting them back into the oven.
Customers are always amazed at the results because the cleaning process leaves their cooker looking like new and as I use non- toxic biodegradable cleaners in the home, the cooker can be used as soon as I walk out the door.
The complete process can take from two to three hours and Agas three-four hours. It depends on the size of the oven and also levels of soiling.
Other items I am asked to clean include hobs, extractors and microwaves and sometimes I replace light bulbs and filters. The cleaning process will remove dirt, grease and burnt-on carbon deposits.
Many of my customers pre-book and I send them a reminder after six months. If the customer decides to have their oven cleaned within that time scale they receive a loyalty discount.
I pride myself on the customer care I offer. I want customers to recommend me to their friends and family and I am very keen to create awareness of the service I provide.
Once I've finished my last job I head home and replenish the cleaning equipment and solutions. A lot of cloths are needed in my work and they have to be washed each night. I check out my emails and respond to any customer queries.
I have dinner with Karen and relax for a while. In my spare time I like to do some DIY. gardening and watch home and property programmes. Running my own business means I am always thinking of ways to improve the firm.
Most nights I go to bed at 11.30pm.
Ulster Star
14/03/2008