Jenny Munro talks to Maghaberry woman Tracy Brown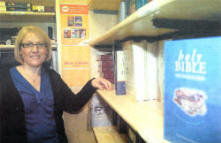 MAGHABERRY woman Tracy Brown is the Manager of the Faith Mission Book shop at Chapel Hill in Lisburn. She is married to Alan and they have two children, Jamie and Grace.
Tracy, 43, has worked at the bookshop for two and a half years and was appointed manager last October. She has been a Christian for eight years and is a member of Maghaberry Elim Church.
I wake up at 7.30am, have breakfast, say goodbye to my son who leaves before me, get ready for work and then take my daughter to the bus stop before driving to Lisburn.
The first thing I usually do when I get into the shop is sort out the tills and delegate work to the staff. I check the mail and any other correspondence and sort out invoices to be paid and lodgements to be made at the bank.
I make sure the shop is clean and tidy before the first customers arrive.
There is a nice atmosphere in the store where people can come in to buy Christian literature and music as well as have a chat. It isn't just a book shop but a ministry too. If anyone needs a chat my staff and I are there to listen to them.
We stock a large variety of Christian Books, including Theologies, Missionary Biographies, Devotional books, Commentaries and Bibles, as well as large selections of Christian music, both traditional and contemporary. We also have a good variety of greetings cards and other miscellaneous items.
I spend time doing paperwork, sorting out orders and putting stock figures onto the computer system. I don't like working in the office too long so as soon as I get the administration work finished I go onto the shop floor as I think it is important to meet the customers.
There is a lot of administration work involved but I don't mind it too much. Some people will come in if someone they know has passed away and they want to buy a sympathy card - these would be our best sellers. Others might need some guidance and I'll point them in the direction of the literature which might help them and I might have a chat with them to give them guidance and comfort.
We stock a lot of Sunday School materials and the teachers will visit us to stock up on literature and bible reading notes for their classes.
The shop is also a meeting place for school children. I love to see them coming in after school. I put on music for them and enjoy their chat. On Market day older people tend to visit us more and h is a pleasure to talk to them and hear how they are keeping. It really is a pleasure to go to work. There is a nice atmosphere and it is a great big shop. After the shop closes I have to make sure all the tills are cashed up and the place is nice and tidy. It is usually after 5.45pm before I leave and head home. When I get into the house I start making the dinner and catch up with my family. We normally sit down to our meal at 7pm.
I used to only work part time so working longer hours has been quite a big change to family life. It is difficult trying to strike a balance. As well as doing general household chores I like to watch the soaps on TV and go to church groups. I attend Bible study groups and am a youth leader.
I like to stay up late and most nights I am in bed around lam.
Working for God is a big part of my life. I feel I am where God wants me to be and I really enjoy what I do.
Ulster Star
25/01/2008