Jenny Munro talks to Una Anderson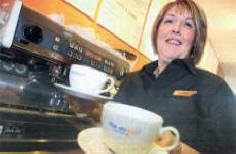 UNA Anderson runs the Lisburn Franchise of the streat cafe with her husband Ian. They live locally and have two children Paul, 15, and Rebekah, 11.
After careful research, the couple jumped at the chance to take out a franchise with the well known business and opened their doors a year ago in Linenhall Street.
Una, 43, also works one night a week as a staff nurse at the City Centre Cancer Centre.
I am generally up at 6.30am as I have lots of things to do around the house. I have to multi-task. Some days I go to work at 6.45am and start the food preparation and then I'll go home again when the staff arrive and get lunches ready for my children and drop them off at school. The doors open at 8am at the Streat as there is a great demand for breakfast and coffee from people before they start work. When I have left the children off I normally touch base with my parents for a quick chat and then head back to the shop for around 9.30am. Some mornings I might be slightly later if I have banking to do.
Once I arrive at work again, that is me based there for pretty much most of the day I sort out any orders which need to be placed with suppliers and then make sure any of our client's orders for the platter or lunch services are underway
I do a lot of deliveries at lunch time and once I've finished these I go back and help out with the busy lunch time trade. The streat offers customers healthy fresh food. We are often complimented on our coffee too - there's a free top up service which is just another way of making sure our customers are well looked after.
As well as serving the food, behind the scenes I have to make sure the staff are organised to regularly clean the shop. It's very big and bright and as we have baby changing facilities it is popular with mums and baby groups.
Some customers enjoy reading when they are drinking their tea or coffee or having something to eat so I make sure there is a good supply of newspapers and magazines available.
Our customers range from small children right through to the elderly. There is a kids corner were the children can colour in and play while their parents relax and school pupils often come in during the afternoon to study when they are visiting the library or simply to catch up with friends. Older people seem to enjoy coming in for a coffee and scone or traybake. The store is open until 5pm during the week and 4pm on a Saturday.
I take Sunday off but a lot of times I end up going in to do some work. At the end of trade I make sure everything is tidied away and the deli counter, floor, toilets, tables, doors. and windows - every inch of the place is cleaned. The coffee machine also has to be cleaned too.
I usually get away at 6pm and lock up and secure the premises. I head home and put the dinner on and catch up with the family over a meal around 7pm. Then homeworks are started and I'll tidy the house and sometimes speak with friends and family on the phone. One evening a week I work as a Staff nurse and start at 8.30pm. I work right through until 8.15am the next morning. It can be intense but it does mean a lot to me.
Ian doesn't work full time at the store but he does do all the major administration work and sorts out the accounts and pay roll. I don't have much spare time but we are very family orientated.
If I'm not working at the hospital I do some paperwork and then head to bed at around 10.30pm.
Ulster Star
23/05/2008