Jenny Munro talks to Vivien Morgan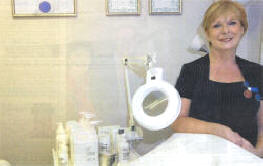 VIVIEN Morgan, 52, is a beauty therapist who works from her home in Lisburn. With over ten years experience in the beauty world, including working as a college tutor and in a salon, Vivien decided the time was right to set up her own business and work from a treatment room in her house.
Originally from Liverpool, she came to Northern Ireland 28 years ago with her late husband Mike. She has three grown up daughters and one granddaughter.
I have only recently stared working from home so it is all very new and exciting. I haven't a terribly big customer base at the moment but I am hoping that the word will spread and more people will make appointments.
At the moment I might work from 9am -noon, have a lunch break and start again at 2pm. I take a dinner break from 5-6pm and then I work with clients up until 8pm, but I am willing to work later if somebody really needs me to.
Running the business from home means my working hours are more flexible and I can work around my lifestyle. I have a ten month old grand daughter who I look after part-time so it works really well.
I find that having my own treatment room at home means I can spend more time with my clients and can cater for people who find it difficult to get the time to go to a salon.
The treatment room is lovely and very peaceful. It makes the clients feel relaxed. My youngest daughter lives with me but because there are only the two of us the house is very quiet and there are no distractions.
I mostly do facial treatments, manicures, pedicures, waxing, massages and tanning. These are what most people ask for but I am also qualified to do aromatherapy treatments, which are very popular.
When the customer arrives we'll have a chat and if it is their first time I'll get them to fill in a consultation form so I have a record of their details.
I check if they have any allergies that I should be aware of.
Relaxing music will be playing in the background and I might also light some scented candles to add to the tranquil experience.
I then get the client prepared for their treatment and make sure I know what exactly they want. I don't have a tight schedule so the client never feels rushed and I'm not hurrying their treatment.
I regularly attend trade exhibitions to keep me up-to-date with the beauty industry I was in Barcelona last week at a trade exhibition, which was great. I enjoy finding out about new products and treatments.
Once I have carried out the treatment I leave the client to relax. If they've had a massage or perhaps a facial I'll give them some chilled water and leave them to get dressed.
Throughout the day people will ring to make appointments and I check my diary to see what I have available. As the business is in its early stages I am keen to work on ways to advertise it and I regularly research prices to make sure that I am competitively priced.
I also offer a home service for people who can't get out of their houses and I have bridal packages too. When I finish for the day I wash the towels and equipment and make sure the treatment room is ready for the next day's appointment.
In my spare time I enjoy socialising, eating out and doing family things. I really love what I do and I hope it becomes a success. Eventually I would like to help my daughter, who is training to become a beauty therapist, open a salon.
Ulster Star
07/03/2008