Jenny Munro talks to Will Stevenson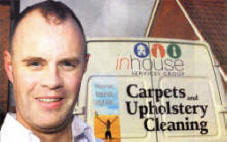 WILL Stevenson, 37, is the Marketing Director with Inhouse Services - a domestic and commercial cleaning company.
He is a former fitness instructor and swimming coach and originally trained as a carpenter before taking out a franchise in the firm Cleaning Doctor. Last year he decided to leave Cleaning Doctor and go into partnership with Nigel Dale, Managing Director of Inhouse Services, who is responsible for the day to day running of the business.
The local man specialises in cleaning carpets and upholstery and is also involved in the marketing side of things.
He lives in Maghaberry with his wife Caroline and their two sons Ross, 6, and Luke, 4.
I normally wake up at 7.30am. My wife gets the kids ready for school, we'll have breakfast and then I'll look in my diary to double check what I have lined up for the day
Inhouse Services provides residential and commercial cleaning and I specialise in carpets and upholstery We are not just another cleaning company - we offer a complete range of high quality and affordable services and we aim to give that personal touch.
Before I set off I check I have all the appropriate equipment and enough solutions in the van before going to my first appointment. My business partner Nigel organises the cleaning teams and sorts out business contracts while I work on specialist jobs. We are in regular contact to discuss jobs and contracts.
Customers, new and old, phone me throughout the day so it is essential that I carry my mobile phone and diary with me. I will take a note of what the customer wants done and provide a personalised plan to suit their budget, requirements and schedule and I give a free quotation on all jobs.
When I arrive at the client's address I look at the carpets and sofas to be cleaned. I always carry out an inspection when I first get there so I can advise people on stains or damages that might be tough to restore. Most people are sensible enough to know that some damage is hard to repair.
An average suite cleaning takes two hours. Sometimes when I'm at a job the customer will ask me if I will clean some additional items so I like to leave plenty of time between jobs.
I set the machine up and make sure the correct temperature is programmed and then clean a small area to ensure there are no problems. When I'm cleaning sofas I start with the base, then the arms. sides and back before doing the cushions. I stack it all up and offer to put on a protection spray or fire retardant and the customer will look at the cleaned items and tell me if they are happy. A money back guarantee automatically comes with all our services in the unlikely event of them not being happy and we will return and service the property free of charge.
I actively market the other services the business offers and leave business cards. As well as what I do, Inhouse Services offers teams of local, experienced and vetted cleaners who are flexible and adaptable, giving clients that personal and efficient service. Whatever type of clean you need, residential or commercial, weekly, fortnightly, or one-off, Inhouse can do this.
After my last booking, I head home and have dinner with my family. In the evenings I prepare for the next day. I stock up on solutions and protectors and clean the vans and maybe there are some rugs which I've brought home to be cleaned.
My spare time is spent with my family I enjoy swimming, keeping fit and going to the cinema. At night I'll read a bed time story to the boys before relaxing and heading to bed at midnight.
Ulster Star
29/02/2008