Jenny Monroe talks to Alexander McLuckie, Geddis Fireplaces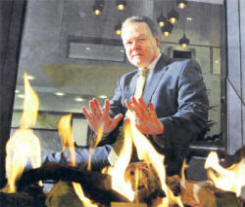 ALEXANDER McLuckie, 52, runs Geddis Fireplaces which recently opened a brand new showroom on the Moira Road. He was born in South America to Scottish missionaries. When he was 11 he moved to Dublin. He then went to the University of Ulster to study accountancy before taking up an accountants position with a well known Belfast firm.
In 1998 Alexander purchased Geddis Fireplaces which was previously based in Young Street. Last month the firm celebrated the opening of its new premises. He is married with two children and lives in Lisburn.
I wake up around 7am and the whole family usually gets up about this time too. My wife Ruth is a teacher and she leaves with the children at 7.30am. I'll clear the kitchen and feed the guinea pig when they leave. I will then head off to start work for about 8.30am. When I get in I plan for the day. I spend most of my time making sure everything is running as smoothly as possible and plan for all eventualities. I check that the fitters know they are going to the right places and have directions and I deal with customers and suppliers throughout the day. I work on everything that comes along with running a business including VAT returns! There is an able and dedicated team of people working with me including sales staff, service, administration, fitters and storemen. The main function of the business is the supply of fireplaces right across the board. We deal with hotels and big self build projects - the luxury side of the business right through to the more straightforward domestic fireplaces. We have had a lot of interesting projects throughout Ireland north and south.
We fit and supply fireplaces as well as making components but most do come from our suppliers. Often we work closely with architects and interior designers who are responsible for certain projects. They come to us with an idea and we will make suggestions based around the top brands we deal in.
It is really exciting for us at the moment with the opening of the new showrooms. The environment of our business is vital and improves the quality of our displays. It shows the consumer exactly what they will be getting and helps inspire them by showing what you can achieve in certain amounts of space.
People come in to the show room, have a look around and our sales team is available to answer questions and give advice. We find out what the customer is looking for and make suggestions. We will go out on site to talk to them about their new fireplace and then we will place an order when they give the go-ahead. Once the fireplace is in stock we will deliver it and also offer a fitting service too as well as an after sales service.
We meet a variety of people and it's great to see people walk away satisfied with our products and services.
Most days I get home at 5.30pm but I work to 9pm on a Thursday and 12.30pm on a Saturday. When I get home I will enjoy a family meal. We have a busy lifestyle and there is always some class or other to take the children to and collect them from. I am involved with my Church and enjoy going to church groups as well as working with youth groups. The church plays a big part in my life. I enjoy going out to visit elderly people form the area.
I like to go to bed between 10.30am and 1 11pm. I certainly lead an interesting and varied life. I enjoy it and am looking forward to the challenge of taking the business forward.
Ulster Star
02/01/2009