Jenny Monroe talks to Ciara Daly, make-up artist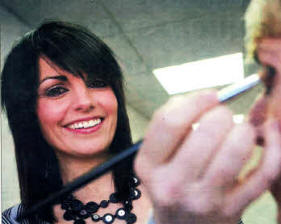 Ciara Daly, 31, from Derriaghy runs the 'Ciara Daly make-up' business in Lisburn. The mother of two has worked in the hair and beauty industry for over ten years but her real passion has always been for makeup. She pursued a career within the industry and became a representative for various brands. Clara soon realised her real passion was make-up so she became a qualified beauty therapist and attended various make-up work-shops and master classes and then went on to get a Diploma from the prestigious Oonagh Boman School of Makeup before setting up her own business above the Green Room on Bachelor's Walk.
My day begins with sorting out my children Jay, 2 and Darcy, 1. On the days I'm working the children's granny takes care of them. Then I head to my studio.
My week is so varied and it really does depend on what bookings I have, however, on a Monday and Saturday I run courses so I always know that is what I'll be doing on those days. It really is a course for everyone, from beauty therapists to school leavers looking to make some part-time cash at weddings and formals, to women who are just fed up wearing the same make-up year in and year out.
Having also trained as a beauty therapist I realised how extremely little makeup training was given within the beauty industry. I was approached to start taking workshops in colleges throughout Northern Ireland to the beauty therapist trainees. As a result of the high demand I decided to open my own make-up studio and deliver a six week course and it has been very successful.
It starts at 10am and runs to 4pm. I focus on teaching the theory side of makeup and giving a full demonstration of the look we are studying that particular day. I teach the history of make-up right through the changes in make-up over the years, to face shapes, contouring as well as how the students should go about setting up heir own make-up business. It is very extensive and people don't often realise how much there is to learn.
The students are encouraged to carry out the practical application of the makeup after lunch and towards the end of the class there will be an assessment of what we've covered. I set some research homework for the students to complete for the next class. At the end of the course I organise a photo shoot and the students get to take away photos of the different make-up looks they have created.
As well as the course I offer lessons and make-up packages and I work on photo-shoots and fashion shows too.
The reason I began doing makeup was to help others see their own beauty inside and out. I really enjoy passing on my knowledge. I always had a genuine interest in everything from hair-trends, fashion changes and the new make-up techniques of each season and when I started my work as a freelance makeup artist I enjoyed every minute of it.
Doing someone's make-up is so personal and it's about getting the balance right. There is no point in doing make-up that you think is fabulous if the client feels totally uncomfortable wearing it - communication and consultation is the key. I want my clients to be able to be open and honest and tell me what they are looking for and then to combine that with my professional opinion to be able to achieve an all round bespoke look. It just never ceases to amaze me, the difference a bit of well applied make-up can make to not only a person's look but more importantly to their confidence.
Ulster Star
18/12/2009