Jenny Monroe talks to optometrist Claire Bingham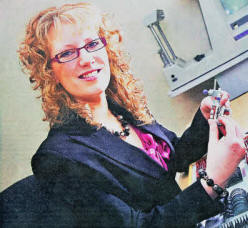 Claire Bingham, 28, is an optometrist and partner with Taylor & Toal Opticians which recently opened its doors on Bachelors Walk.
Claire completed her degree at Glasgow Caledonian University and over the past five years has gained valuable experience working within both successful independent and multiple practices. It has always been Claire's desire to manage her own practice, and to open under an established name with true expertise, so coming to Lisburn was an ideal opportunity.
When I arrive in Lisburn I walk a short distance to the store and get everything up and running. Our receptionist Natalie arrives and we discuss the day ahead. As Partner and Optometrist I am kept busy with the general day-to-day running of the store as well as working with the patients.
I look in the diary and see what appointments have been booked in. We make sure they are well spaced out to enable us to spend as much time as we need with the patients. Every patient is an individual, they have different needs and expectations from the eye examination. Some have health concerns about their eyes, possible long term history of eye problems and some simply want to update their frames.
The eye examination starts with asking the patient when their last sight test was, asking about their glasses, what they wear their glasses for, if they feel their vision has changed, or if they don't wear glasses what visual problems are they having.
I ask a detailed history of their general health and medication, any ocular history/symptoms/concerns, their family history, including any history of glaucoma, as this is often hereditary. I ask the patient if they drive and use a VDU screen as this is extremely important in advising what they may need their glasses for and any additional coatings that may be helpful like an anti-reflective coating which cuts down on glare and helps with night driving.
I ask the patient's occupation because this allows a great insight into their visual needs. For example a dentist has an intermediate working distance and therefore may need a different prescription for working than he does for reading or driving. In this case safety aspects would need to be considered too in the size of the frame and type of lenses.
I assess the patient's vision and carry out the refraction to get the correct prescription for their glasses. I assess the health of the eyes using an ophthalmoscope and/or a Volk lenses, check the pupil reflexes and ocular muscle balance and on patients over 30 years I measure the intraocular pressure using a Goldmann tonometer preferred by many to the puff of air method.
At the end of the eye examination I speak to the patient, recommending the right type of lenses, including single vision, varifocals, bifocals or a selection of tints or coatings.
I can help them select frames and lenses that are right for them. Certain patients love bold colourful frames, some prefer a more discreet look. The one-to-one in the test room allows me to have an insight into the patient's personality which is of great benefit in helping them chose the perfect glasses for them. The frame fit is extremely important too as the frames need to be comfortable.
When the patient collects their glasses, the fit is checked again, making any adjustments, in particular to the nose bridge and behind the ears, that are necessary and ensuring the patient is happy with the vision.
Towards the end of the day I have a look at the appointments listed for the following day and make sure all orders are up-to-date. Then the store will be cleaned to make sure it is tidy for the first patient arriving the next morning. I leave to get my train and go home.
I really enjoy my work and I do hope that my patients will benefit from the service we provide. I love chatting and getting to know people so I am definitely in the right line of work.
Ulster Star
13/11/2009