Jenny Monroe talks to Darren Elliott of Integrity Tyres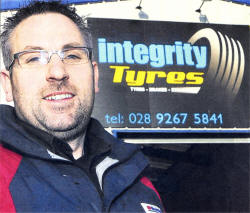 DARREN Elliott recently opened Integrity Tyres at Enterprise Crescent in Lisburn. Darren is a former Manager of multi-national tyre firm in Lisburn and has 20 years experience in the vehicle repair industry - 15 of those spent in management roles.
All of the experience that Darren has gained has helped him build a business that cares about customer relationship and value for money and the motto for his new business is 'honest motoring'.
Darren has the support of his wife Sandra, who will be looking after the administration side of the business. The couple live in the city with their three children aged 11, 7 and 5.
I normally wake up between 6.30am and 6.45am and am at work for 7.45am. On a Monday I go a men's prayer breakfast before work.
When I get to work I turn the heating and equipment on and check stock levels and put in orders to our suppliers if I'm running low in anything. We believe in and support local business. Using quality products gives our customers a genuine local alternative to large multi-nationals.
I check the diary and see what has been booked in for the day. Two guys work alongside me and I make sure they know what jobs have been booked in too and what needs to be done that day.
I spend my day meeting and greeting customers, checking vehicles and building up customer relations. We offer a range of products and services which include, tyres, exhausts, brakes, batteries, suspension, servicing, MOT preparation, wheel and headlamp alignment, puncture repairs, bulbs and wiper replacement, all provided in a fast fit environment. We offer free safety checks to all of our customers so they can be confident of the safety and reliability of their vehicle.
It really is a hands on job. The work is shared between the three of us and as well as the manual work I am responsible for the daily running and maintenance of the business. My wife Sandra works on the administration side of things.
If a delivery comes in it has to be sorted, I'm constantly replenishing the stock. I deal with telephone inquiries and am working on ways to market the business.
As well as the diary bookings people often call in of they have a puncture or other problem with their car. I have to be very organised in order to make sure I offer an efficient service to the customers.
Our comfortable customers' reception area provides a place to enjoy a coffee, relax, watch TV or read a magazine while waiting on your vehicle. Our aim is to offer our customers excellent service, coupled with efficient work and guaranteed after sales care, at an affordable price. We endeavour to ensure that the
customer will have a clear understanding of the work that will be carried out on their vehicle.
I tend to work through lunch and just grab a bite to eat when I get a quiet moment. We close around 5.30pm, lock up and go home to have dinner with my family.
We have family time and make sure all the homework's are done. When the children go to bed Sandra and I spend time chatting about our day. In my spare time I like to attend Church groups.
Most nights I go to bed about I I pm. It was a big step setting up my own business but it has been well worth it and the senses of achievement and satisfaction is great.
Ulster Star
23/01/2009