Jenny Monroe talks to Deborah McLucas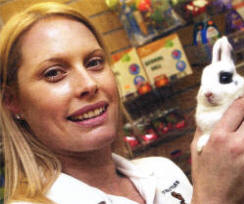 DEBORAH McLUCAS owns Dolly Doolittles Pets store in Longstone Street, which opened up several months ago. The mum of two is married to Andrew and they live in Lisburn with their children Finn, 13, and Ruby-Jude, 3. When Deborah was young she wanted to be a marine biologist as this was something which fascinated her. Her life took a different turn as she worked in pets stores knowing that one day she too would like to set up her own pet business. Deborah was delighted when her dream came true this year. Having always had a great interest in animals she says she has a small 'Noah's Ark' at home.
I have a 6.30am start to get myself organised and the family ready for the day. My husband is a fireman and he leaves for work and I head to the shop for 8.30am.
I open up and start to clean and check every animal individually to make sure they are ok. I spend a couple of hours doing this. Ivan, an assistant at the store, arrives at 9am and he helps me with the cleaning.
We sell rabbits, guinea pigs, gerbils, mice, rats, hamsters, budgies, goldfish, hedgehogs and canaries.
A lot of people prefer hamsters as they have no tails but there are people who like rodents for pets. Rats are very intelligent creatures and they can be trained. The ones we sell are of course pedigree and clean. Others like to buy mice as these are the cheapest for kids to start off teaching them how to look after an animal until they are ready to move on to a bigger pet.
Customer service is the key focus of this business. People love coming in for the banter and talking about their pets. This is flea season so we've had lots of customers asking about what products we recommend. Most times we can answer questions but sometimes we can't help and will recommend they see a vet. It is also kitten season so people have been coming in to get litter trays, advice, and products for their kittens. Two days a week we get major deliveries. There's lots of heavy lifting in my job as some of the products weigh around 25 kilograms. Every other day we do get smaller deliveries and myself and Ivan will put these away or replenish the stock on the floor as well as taking note of what we need to order for the next delivery.
At 4.40pm the nocturnal animals have to be Fed. Again I have to make sure there are no problems and they are ok. I was brought up with animals so handling them is no problem at all for me. When I was younger I wanted to be a marine biologist but things took a different direction in my life.
I also have shop pets, the love birds', which are not for sale and they draw in people who want to have a look at them. Young children passing by love coming in with their parents
to see the different pets. I sell African pygmy hedgehogs which have been a big hit with customers as they are different and not your usual pet.
At the end of the day I bring in all the displays outside and check the animals are secure. Then I head home and have dinner. We have to be very organised and prepare each night's meal the night before. Then I just spend the rest of the night doing things with my family.
I always wanted to open my own pet store and I can honestly say this is the happiest time of my life. I just bounce out of bed to come to work every day and that makes me feel good about my decision to take a chance and start up the business.
Ulster Star
17/07/2009