Jenny Monroe talks to Elaine Tocher,
manager Barnam's Ice Cream in Mall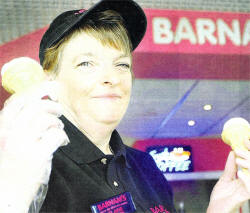 ELAINE Tocher, 56, is the Manager of Barnam's ice cream in Bow Street Mall's food court. She began her working career in an office in Dunmurry before getting married and then became a full time mum. Nine years ago her husband sadly passed away and Elaine decided to go back to work and a year ago she took a job with Barnam's. In January she was appointed Manager.
She has two grown up daughters and two grandchildren.
I get up at 6.30am, get myself ready and feed my dog before going to my daughter's house where I look after my grandson until his other granny comes to look after him.
Then I head for work in Bow Street Mall Food court where I start at 11 am. When I arrive I put out the displays and check stock levels. I always clean the night before but I still do some more the next day. Once a week I defrost the ice cream cabinet and give it a good clean. The mornings are usually the quietest time of the shifts so I sort out staff rotas, working hours to be sent to head office and I will fill in temperature sheets and do any other necessary administration. I brief the other staff members on any news from head office.
I also ring head office to give them an order for ice cream refills and I work out orders for our other suppliers. The ice cream is brought up to us from our factory in Bangor and stored in special freezers. Barnam's make all of our own ice creams and sorbets locally in our modern factory. We only use the finest ingredients sourced from all over the world. The temperature is regulated very carefully. When deliveries arrive I sort them out and make a note of what I've received.
As well as the ice cream we sell candy floss, confectionery, soft drinks, hot drinks and smoothies so I check the stock and prepare the fruit and sort out the supplies of orange and apple juice for the smoothies.
We recently launched a new range of ice creams so I make sure that the customers know about the new flavours which include; rhubarb and custard, lemon meringue, blue banana mallow, blackberry and apple, apple pie and cinnamon crunch, peanut butter and Donatella rock.
After getting the orders out of the way I concentrate on selling the products and interacting with the customers. We are a family orientated business and it's a really good firm to work for.
I fill out the ice cream as required. It is a similar routine each day six days a week for me. It keeps me busy and I really enjoy it. Obviously ice cream is seasonal and in the warmer months the queues will be longer and we are much busier. In the winter, Saturdays would be our busiest day but even on cold days people like some ice cream.
We have an extensive range for the customers to choose from and I am in regular discussions with the owners regarding promotions and different ways to attract customers.
At the end of my shift I make sure the unit is clean and tidy and I move the displays into the back before locking up and checking the money side of things.
Then I head home where the first job is usually to feed my dog Diesel before making something to eat for myself. I like to sit down and watch TV before heading to bed. I really love my work and I enjoy getting up in the morning and not many people can honestly say that.
Ulster Star
20/03/2009