Jenny Monroe talks to Gail McKee,
fund raising manager of NI Make A Wish Foundation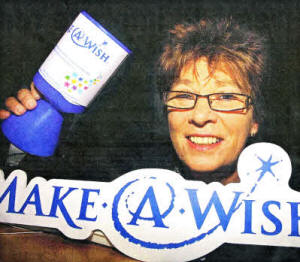 GAIL McKee, from Lisburn, was recently appointed Fundraising Manager of Northern Ireland for leading wish granting charity, Make-A-Wish Foundation UK. Having worked for ten years as a fundraiser for another charity, Gail decided to take a career break. She has now come back to fundraising and is raring to go. Make-A-Wish is hoping to grant a record 50 magical wishes this year to children and young people fighting life-threatening illnesses in Northern Ireland. Make-A-Wish is keen to grant many more magical wishes to children here, whether that is to spend the day as a princess or a policeman, to meet a favourite celebrity, to take a special trip with the family or to own a long-sought after toy. For many children, it provides a sense of hope and a break from endless hospital visits and medical treatment. This year, over 1,000 children will turn to the charity for their magical wish to be granted and Make-A-Wish needs to raise over £5 million to grant them all and can only do so with the generous help of members of the public.
Each day in my job is very different. Sometimes I could be in my office in Belfast talking on the phone, writing up presentations and responding to emails and other days I'll be out and about at cheque presentations. My role is to ensure our charity raises enough money to fund the growing number of wishes we are granting each year.
Make-A-Wish grants magical wishes to children and young people fighting life-threatening illnesses. It is a great charity to support, whether you are an individual donor, a community group or a company. You can see directly the difference your donation brings to a child's life. As more children turn to Make-A-Wish to have their special wish granted, I hope many more people will want to help us.
Each child has their own idea of exactly what their true wish is. My job is to raise the funds to pay for the wishes in Northern Ireland. Another team will find out exactly what the wish child desires so the memory of their wish will last for ever, however long "forever" might be. There are four kinds of wish: I wish to meet, I wish to be, I wish to own and I wish to go. To be able to raise funds to grant the wish of a child is very special.
I am in regular contact with the media trying to raise attention to our fundraising campaigns and with people who are interested in donating money. I am regularly invited to give talks to clubs and groups around the province. This is a great way to get more volunteers on board and to encourage further fundraising. Raising the charity's profile and collecting as much money money as possible is my focus. All the money that is raised in Northern Ireland is used for the wishes f or children from here.
As much as it is important for me to be in the office writing letters and making phone calls I believe it is essential for people to see me out and about and to know that the charity exisits. It can be very emotional at times when I hear about the children who are being granted wishes but this is a big motivator and knowing that I can help make a difference is an incredible feeling. Seeing what the charity does with the money that is raised is amazing.
To refer a child for a magical wish or to make a donation, contact Make-A-Wish on 01276 40 50 60 or email info@make-a-wish.org.uk. To find out more about the charity, visit www.make-a-wish.org.uk or for local information contact Gail on 90805580 or 07730299842.
Ulster Star
111/12/2009