Gary Chambers, contract manager for South Eastern Regional College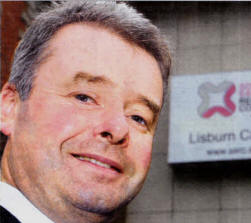 GARY Chambers, 45, is a Public Private Partnership (PPP) Contracts Manager for South Eastern Regional College and is responsible for the Lisburn Estate and overseeing the new College building which is due to open next year.
Lisburn born and bred, Gary is married to Lynne and has three daughters Anna, Rachel and Charlotte. Gary is a former student of the College where he studied construction before going to University. Coming from a construction background he worked in his family business before joining South Eastern Regional College.
Most mornings I have a 6.30am start. I take it in turns with my wife dropping my youngest child to the childminder in Dromara. Once the children are sorted out I leave for the College and am normally there for about Sam. I divide my time between the campuses in Lisburn, Ballynahinch, Downpatrick and Newcastle. The first thing I do is go through my emails and address any issues which may have arisen. Sometimes there will be a lot to go through depending what projects are in place.
I am responsible for the new Lisburn Campus which is being constructed in the City's Castle Street - the building work is well underway. I work closely with an agent who acts on behalf of the designers and all the contractors. He keeps me up-to-date with everything that is going on with regard to the developers, Farrans Construction and architects, Knox and Clayton.
Part of my job is to go through drawings and plans and make decisions in consultation with the senior management of the College, then feeding relevant information back to our agent. My job also involves discussing designs, layout, drawings, listening to proposals and making suggestions. It is very important that I go through information and equipment schedules thoroughly to make sure everything is going according to plan and checking we are sticking to our budget. In addition to the new Lisburn campus build, — I am also responsible for the day-to-day running of the building projects in Downpatrick, Ballynahinch and Newcastle. I spend quite a bit of time at each site ensuring that everything is on track – walkabouts are a vital part of my job.
I regularly report to the College Management Team providing them with information relating to the new build projects and highlighting areas of concern. Following these meetings I put the decisions that have been made into action.
My assistant Sonya looks after the day-to- day running of the existing Lisburn Campus estate but as I have overall responsibility I deal with issues which affect the existing building too. These might include an electrical or plumbing malfunction or equipment issues such as the lifts breaking down. Sonya keeps me informed of any issues which I need to address.
A lot of my time is desk-based ensuring that paperwork to all the relevant parties is processed. I also ensure that I am in regular contact with the other estate manager who is based in Bangor.
The new build programme is on track for opening in April 2010. It's a very exciting and busy time but so satisfying to see everything coming together well. I really enjoy my work and I look forward to the day when I can look at the new Lisburn Campus building and be able to say that I was involved in its creation.
Ulster Star
09/10/2009