Jenny Monroe talks to Lynsey Gordon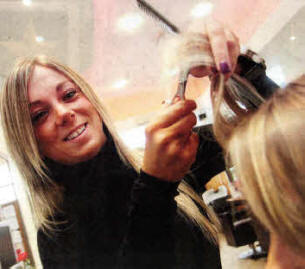 Lynsey Gordon, 29, is the Manager of the Natural Hair Company Limited which is celebrating its 15th anniversary. As a child she loved going to the hairdressers with her mum and at the tender age of 13 got a job brushing the floor at her local salon before pursuing a college course in hairdressing and beauty therapy. When she completed her qualifications she applied to a job ad at Natural Hair. She landed the position and has been there ever since progressing from a colour technician, to stylist and Manager.
I get up between 6.30am and 6.45am and leave at 7.20am to be at the salon for 8am. I turn the flat screen TVs and computers on and then head upstairs to sort out the laundry. When it's quiet I always like to catch up on the housekeeping side of things.
I then put on my makeup and fix my hair and have some breakfast before the doors open at 9am. By this time I will have delegated jobs to the junior staff members and had a brief chat with the assistant Manager Lisa. Each day is so varied in the sense that I am dealing with so many different clients. That's what I love about my job as I have so much creative freedom.
As well as styling hair I am responsible for the paper work and organising in-house events and hair shows. I will have a meeting with Lisa and Martine Broggy, salon owner and Creative Director, to discuss upcoming events and what needs to be done. At the moment I have been working on staff rotas for the Christmas period for our salon as well as our Natural beauty salon and our sister company Faith.
The clients are my priority so some days I will be fully booked and Lisa will have to do the paperwork and sort out breaks but I do like to use any spare time I have to work on the management side of things. Usually my first client is at 9am and most days I could be flat out and booked right through.
We have an award winning artistic team whose talent and dedication have ensured that Natural Hair Company has continued to strengthen its reputation as one of the leading and most progressive salons in the country. We are always entering competitions and sending staff on courses. Finding out new trends is vital in this business as we like to pass on the season's trends and predictions for forthcoming seasons, on to our
Martine and I have a meeting every Wednesday to discuss staff training and what competitions we are going to enter. I love organising photoshoots and hair shows. This is another aspect to my job and it's very exciting to see looks come to life.
At the end of the day I sort out the money with Lisa and make sure all the figures balance on the computer. Myself and the others begin to tidy up and ensure the salon is looking well for the next day. Then I lock up and head home and have some dinner before going for a walk with my friends.
My boyfriend Adam and I have bought a house in Moira and have been spending time doing it up. I can't wait until it's finished to see our hard work come to life.. In my spare time I enjoy going out for dinner with Adam, chilling out watching DVD's and looking forward to our next trip abroad.
I have Martine to thank for giving me a chance to fulfil my hairdressing ambitions. It's not hard to get up to go to work if you really enjoy it. Knowing a client is satisfied with my work is also a great element of my job.
Ulster Star
23/10/2009