Jenny Monroe talks to Marina Furey, fitness instructor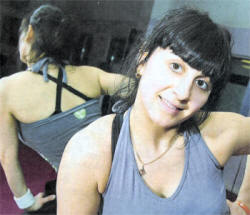 MARINA Furey, 29, is a fitness instructor and Zumba dance teacher and takes classes in the city and surrounding areas.
Originally from Croatia, she studied for 10 years at dance school and obtained a diploma before taking up sports studies. She moved to Northern Ireland in 2003 and now lives in Lisburn with her husband Martin and son Alexander.
I normally wake at 7am and do all the things mums usually do when they have young children. After leaving my son to school I go for a run and then do some house work before heading to a local gym where I work as a personal trainer. This takes up most of my time during the day.
I also have to try and fit in choreography practice and come up with new routines. In the evening I teach Zumba dancing. I hold classes in the gym where I work, Twinbrook, Dunmurry, Lisburn and am soon starting one in Moira. As well as classes for adults at different levels, I have separate ones for children. Zumba is a fusion of Latin and International music - dance themes that create a dynamic, exciting, effective fitness system. The routines feature aerobic/fitness interval training with a combination of fast and slow rhythms that tone and sculpt the body. It's suitable for most people and you don't need a partner. If people haven't got great co-ordination that's not a problem as I can help them overcome this. There's always a solution.
The dancing combines high energy and motivating music with unique moves and combinations that allow the Zumba participants to dance away their worries.
It really isn't just dancing, it is a way of burning up calories. Zumba utilizes the principles of fitness interval training and resistance training to maximize caloric output, fat burning and total body toning. It is a mixture of body sculpting movements with easy to follow dance steps. I like to make sure there is a variety of routines to keep the members interested.
It is based on the principle that a workout should be fun and easy to do. It really is a feel-happy workout that is great for both the body and the mind.
When I have a class I will go to the venue and set up the music system. Then when the participants arrive I collect their payment and welcome any new members and explain what will be involved.
After a warm up the Zumba dancing begins with the class being introduced to dance steps in Salsa, Merengue, Mambo, Cha Cha, Cumbia and many more. Most of the members aren't familiar with all of the beats to the different styles so this is a great way to learn new dance moves. Classes normally last between 45 minutes to one hour with water breaks at the end of every dance style.
Before the class finishes we do stretches and then I speak to anyone who has a question. I tidy up and head off to my next class or if I don't have one I'll go home to spend time with my family.
In my spare time I like training for marathons and doing lots of fitness activities.
I really love the variety of Zumba. I enjoy teaching it so much. I get a good feeling encouraging others to learn it and become fit. I enjoy giving advice on fitness and feel happy when people start to see results. It is always very rewarding and I would encourage people to join a Zumba class and see what it is like for themselves.
Ulster Star
06/03/2009