Jenny Monroe talks to Naomi Whan, textile artist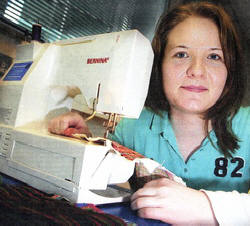 Naomi Whan, 25, is a textile artist with her own business Naomi Whan Contemporary Art. Naomi, who lives in Dromara and is a former pupil of Dromore High School, has always had a passion for art and after completing her BA at the University of Ulster in 2007 decided to apply for the Craft NI 'Making It' programme, which included a placement in a local Arts Centre and financial assistance for two years.
Naomi was lucky enough to be one of just five artists in Northern Ireland to gain placements through the programme in November 2007. As well as having a studio at home Naomi has one the Island Arts Centre where she has been Artist-in-Residence for two years and as well as creating some fantastic colourful art, she has most enjoyed teaching local people, both young and old, about the world of textile art.
I get up at about 8.30am and try to be in the Arts Centre for 9.30am. I tend to spend the first hour or so going through emails and making phone calls. I have been teaching workshops, working on a solo exhibition and doing as many different craft fairs as possible to try to get recognised. I might be organising a stand at a craft fair or talking to galleries.
After this I spend time designing or creating my designs which are influenced by the materials that I use. Fabrics and colours influence me. I like to play about with my designs and make innovative and contemporary creations. I can be more innovative and experimental with Gallery art work pieces and in my commissioning capacity and am able to cater more to peoples individual needs. The unique selling point of my business is that I can create hand made, distinctive products through the use of colour, material and attention to detail. I might work on designs for a couple of hours before I break for lunch. When I come back I will start to prepare for my classes and will sort out all the materials which will be required. I do a lot of experimental work in the workshops. Recently I held a Textile Art Summer Scheme for young people aged 13 to 21 who have a passion for art. The scheme is designed for secondary school and university art students who are interested in gaining help and advice from a professional textile artist. During the course of the week each person learnt new textile techniques and undertook a number of textile projects.
The flexibility of my business means I can design my own programme of workshops and am able to work with a large age range to include Children, teenagers, young adults and elderly and I can teach in various different environments/ locations - schools, colleges, universities, art centres, hospitals, community centres.
If I have any time to myself during the day I do some research on the internet. I like to see what other artists are working on and generally what is going on in the art world. I'm always looking out for art competitions that I could enter and for new opportunities to apply for. Filling in the applications for these does take time.
If I have a class in the evening this could last around two hours and then I'll tidy up after before heading home. This does not necessarily mean that I am finished for the day as I might do some work on my designs in my studio at my house.
I really enjoy my work and it's great that I can make a livelihood out of something I am so passionate about. I have thoroughly enjoyed my two years at the Island Arts Centre.
Ulster Star
28/08/2009