Jenny Monroe talks to hypnotherapist Natalia Hodgers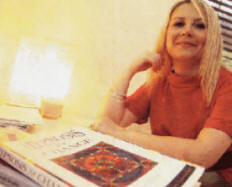 NATALIA Hodgers, 34, is a newly qualified hypnotherapist who has recently moved into the Lisburn area. She initially studied a BSc Psychology and Sociology and then fell into IT. She longed to leave the rat race and find a way to help people learn and grow in their lives. She gained a diploma in Hypnotherapy and Counselling skills with a company called Chrysalis while working in an Engineering company in Wells, Somerset. As she lived near Glastonbury for the last three years she found that a change in lifestyle would also mean a change in career. Natalia is based from her home in Lisburn which she shares with her husband Philip.
I get up at 7am and when my husband leaves in the morning I start rekki as I find it centres me. I am actually looking into doing a masters in it as it calms me down and keeps me focused on my goals. It is a really lovely way to start the day before I look in my diary and see what's on. For every client I have I'll do quite a lot of preparation. When they first get in touch I have a brief chat with them and then organise a free initial consultation which enables me to build up a rapport with them.
I spend about 30 - 45 minutes getting their full history and start off giving them a basic questionnaire to find out information like allergies and medications they are on. Then I discuss the reasons they want me to work with them.
If it is someone wanting to quit smoking I'll ask them questions about why they first started and find out if there is a difference in why they smoke now. I go through their emotions and feelings attached to smoking and how it makes them feel and what the consequences of smoking for their life are. Then I will schedule another appointment but I make sure the person is highly committed to reaching the goal before I take them on. The client really has to want to achieve what they have asked me to help hem with or there is no point.
Hypnotherapy is a remarkable treatment that treats anything from smoking cessation to dealing with driving test nerves to anxiety and stress to enhancing creativity. It is a gentle and relaxing way to deal with life's difficulties.
Before the next session I create a personalised script for the client and base it on them. It is really important to create a script to match the personality. Once the client is comfortable and we have had a chat the induction begins. This is the relaxation part and I try to make them as relaxed as possible to allow suggestions to be fully absorbed.
Then I bring the person down into an even more relaxed state, they are never out of control but just extremely relaxed. Then I start the suggestions. People come to me with different reasons why they want to stop smoking. I use this information when I am trying to get a person's mind to change their line of thought. I try to put their mind into the most positive state possible.
After the person comes out of their relaxed state we have a brief discussion on how they feel. Some people only need one session while others require several more. I write up a report and file it away.
When I'm not working I am really interested in alternative therapies. These are just part of normal life in Somerset and Northern Ireland is just beginning to grow in this area.
I really love my job. It is fulfilling and I get to meet lots of different people who ask me to help them better their lives. It is amazing to help them and see the effects too.
Ulster Star
02/10/2009