Jenny Monroe talks to Sharon Koscielny of SnapTots Photography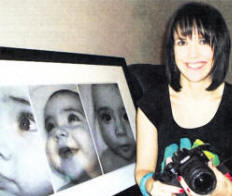 SHARON KOSCIELNY, 29, runs SnapTots photography. She lives in Dromara with her husband Neil and two daughters Emma 2 and Sophie 1. Sharon works part time as a credit controller for a local engineering company as well as running her business which she recently set up from home. She has always had an interest in photography and friends and family encouraged her to set up in business because they could see she had a talent other would appreciate.
I get up at 6.45am and organise myself before checking my emails to see if there's any queries. The girls are looked after by their grand parents while I go to work part time in a Lisburn firm. I work 8 - 1pm. Once I finish I either head to get the girls or go to a shoot. On my way I will grab something to eat.
I will work out a date with the clients and see when suits them best for me to come to their house. I will take note of what they are looking for in their pictures. On the day before the shoot I will give them a call to confirm everything is ok and discuss the best way to do it. Some first time mums are concerned about what their baby should wear and some people worry about making sure their house is tidy for me coming but I tell them that I don't notice the state of the house and not to worry. Space is also another concern for many but ) can work in any type of environment.
When I arrive at the client's house I take a look at their style and get ideas of their taste and then I just start shooting away. I find the best images are captured when a child is happy in his own surroundings which is why I mainly work in a clients own home or at a mutually agreed location such as a favourite playpark. Sessions generally last between 1 - 2 hours but there is no hurry, especially with newborns who may need fed, changed or just want a little break. Using natural light and little or no props I can achieve stunning images to keep and cherish for years to come.
The most popular ranges are Satsuma (colour), Focused (black/white), Tender (family), Captured (all other occasions) and Hotchpotch (collages). However if clients have something specific in mind I encourage them to let me know and I will always try to work with their ideas. My key area is family and children but I can also cover special moments such as engagements, anniversaries, birthdays, christenings and formals.
My style is relaxed and natural with photo sessions being as fun for everyone as possible. I usually just bring my camera with me, not many props. I use natural lighting so the photoshoot is really relaxed and stress free.
When I finish I normally have about 200 snaps with me. I will use my editing package at home to adjust the photos and then will arrange to meet the client to show them. Once they select the images and frames they want I sort out their order and then it takes about a few weeks for me to get them ready.
The business is still in its early days so I am still getting feedback and working on promotions to help me find my feet.
In the evenings I will have dinner with my family before bath time and getting the kids ready for bed. Then I might work on orders and the administration side of things before sitting down to spend the rest of the evening with my husband. By 11pm I need my bed. I never imagined that I would be able to make money from something I think of as fun. I love photography and while it has been daunting going on business courses and learning how to run a business it is really satisfying and rewarding.
Ulster Star
13/03/2009