Jenny Monroe talks to Sheryl Sergeant, Home Design Consultant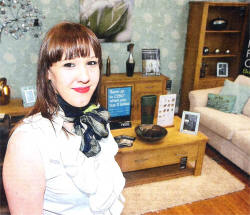 SHERYL Sergeant, 25, is a Home Design Consultant for the Next Home Stores including the branch in Sprucefield. Next has recently launched a new home design service, enlisting the talents of Sheryl to offer her expertise to customers wanting that little bit extra for their homes. Sheryl, a mum-of-one, says her passion for interior design stems back to her childhood when her creative mother was regularly re-designing their home. She studied part time for a Higher National Certificate in interior design before embarking on a degree at the University of Ulster.
I am normally awake around 7 o'clock and I get myself and my daughter Aimee, 8, ready. It takes Aimee ages to get herself sorted out so I need to be prepared and help pack her bag and get her things sorted out the night before. When I drop Aimee off at school I am normally found checking my diary at the school gates. I usually have a lot of morning visits to make but generally I am flexible and can accommodate most customer requests for home visits.
I travel extensively around the province. Customers visit one of the 'Home' stores and makes an appointment for me to go out to their home and advise them on ways to redesign their interiors with the products available at Next. My car boot is like Aladdin's cave as I have so many samples.
I arrive at the client's home and by looking at their house and talking to them I get a feel of their personality and taste. I make notes and take measurements and photos of the space the customer wants me to help them scheme. They tell me what they are thinking of doing to the room and I will give my opinion on whether I think it will work. I am really there to guide the customer and offer them my expert opinion. Some people want complete overhauls of their rooms and others just want a few furniture pieces to update the room. Once we have had a good chat and I have shown them the samples and what we offer, I answer any of their queries before leaving. I will either go to another home appointment or back to my office in Sprucefield or at Holywood Exchange - whichever is handiest - where I upload the images of the room I have taken of the client's house.
I make notes and draw up product lists and ideas. Usually I decide on one feature for each room and everything else is planned around it. I co-ordinate the scheme and place all the information on a concept board for the client. Images of my recommendations are on the boards along with swatches of paint and fabric and visual relations. I carefully present this and post it out to the client.
It is wrapped very carefully by myself and along with the samples and ideas I list complete costings and page numbers of the products. Then I ring them a couple of days after they receive the concept boards and see if they are happy.
If they are, then they can place an order with me directly or they can come into the store and make their order there. The products are then ordered and will be delivered to the customer's home and they can follow the plan I made for them as to where to place everything.
When I get home I make dinner for my partner and daughter, get the homework out of the way and then enjoy family time. I really enjoy helping people in this way. I like a good challenge and being pushed creatively.
Ulster Star
27/03/2009