Jenny Monroe talks to Simon Russell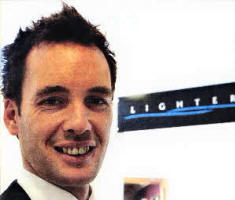 Simon Russell, 30, is General Manager of catering for in-house catering company Mount Charles at Lagan Valley Island. Originally from County Tyrone he now lives in Lisburn. Simon works for Northern Ireland's largest independent and locally owned catering organisation and is responsible for all the hospitality events at Lagan Valley Island as well as Lighters Bistro in the centre. He obtained a hospitality degree at the University of Ulster before completing the Premier graduate management programme and going on to work in sales and marketing. He then went to Australia for a year and when he returned worked in the hotel industry before embarking on a career with Mount Charles.
Every day for me is defined by what events are going on. I come into work, organise staff and brief them on what is happening that day.
As well as running Lighters restaurant I will be liaising with the chefs and co-ordinating the team if we are catering for functions such as weddings and conferences. Recently we had a Royal visit so there was a lot of preparation work and then the Mayor's dinner in the same week so it was a busy time for everyone involved.
I spend time developing menus with the chef and have been working on the Christmas menus, making plans on how to market them. Marketing is essential in my job as it is a way of letting the public know about the services we offer.
I meet up weekly with the Council representatives to discuss ways to promote our service and if there is a show on in the Island Hall I make sure we have promotional literature to go along with the tickets which are being sold.
When there is an event I make sure the function rooms are laid out to the highest standard possible. The range of services provided include the provision of food and beverages to large numbers of event goers, VIP Corporate Hospitality, Conference Catering and the management of all bar services.
Due to the nature of these facilities we must be capable of serving large numbers of people in a very short time. I have regular contact with the centre management as I work in partnership with the Civic Centre staff. Building relations with the Council is very important as I am new to the job. I discuss events with the Duty Manager at the Centre so they are aware of what is going on from my perspective and vice versa.
The Civic Centre staff will set up the functions rooms and my team will finish them off. I have staff who serve the food and it is up to me to allocate leaders to the different sections, but I have the overall responsibility to make sure it all goes well
Before a big event such as a wedding I meet the hosts and find out their requirements. I go through menus and discuss any issues they may have. Then I set about planning the event and organising the food and beverages and other aspects of the hospitality service. After the function is over my team and myself have to get the kitchen back to normal and make sure all the equipment is put away. Floors are cleaned, money is sorted out and only after all of this can I even think about going home. I have no set time for heading home - just whenever the last event is over. Every contract with Mount Charles is different and I am really enjoying the challenge. Knowing people are satisfied with the service we provide is a good feeling and makes all the hard work worthwhile.
Ulster Star
16/09/2009