Aileen Farrell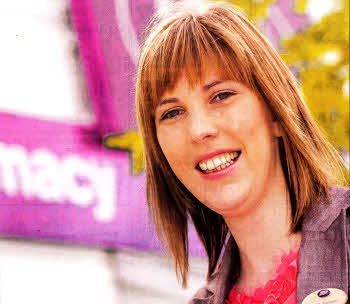 Aileen Farrell grew up in Drumsurn, a small village outside Dungiven. She studied for her GCSE's and A levels at Loreto College in Coleraine, pharmacy at Queens where she achieved a First Class Honours Degree and became a pharmacist in August 2005. She joined the Sprucefield team in July this year after a new pharmacy was opened at the store in May. She has now been appointed Manager of the Pharmacy.
No two days are the same in Sprucefield and that's what I love about this job.
One day I can be in our new pharmacy helping a patient understand how to take their medication and another I could be planning our Christmas season.
I am involved in dispensing of prescriptions and helping patients with healthcare advice but I am also the manager for the rest of the store and this involves working with my team to ensure our customers get a good experience when they visit us.
I work five days a week which often includes a Saturday and or Sunday The pharmacy here opens 9am-9pm Mon-Fri, 8.30am to 8pm on a Saturday and from 1pm to 6pm on a Sunday, so my hours regularly change to suit the opening hours.
The biggest buzz of the job is the diversity. With such a range of products there is always something new to learn about and consequently I have a great team who love the products we sell. Recently we have launched Tony Ferguson Weightloss Programme and this has been a huge success.
Most recently we have also renovated our skincare department and now offer a free skincare consultation for any customer provided by a trained consultant.
My primary responsibility is to ensure all customers have a good shopping experience when they visit but my other responsibilities include ensuring my team are happy and motivated to do a good job. I have a duty to ensure they are supported and recognised when they do. I also have a responsibility to ensure the shop is a safe place to shop
I feel the job requires a real passion for patient care. I genuinely care about the experience patients get and this drives me to do the very best I can. You also need to be a good communicator as I need to talk to patients and my team regularly.
It's also important to take time to listen and understand before making a decision. I do learn something every day and its about ensuring I act upon what I learn each day.
It's most important that I can make a difference and to feel I can bring my personal values to my job. Its also important to me to have some fun at work.
Community Pharmacy is a dynamic job and I truly love it so would say go for it to anyone interested. It does require developing the skill of listening to patients and counselling them and this is a very satising feeling to know you have made a difference.
Also as the profession continues to change the vision would be to get more involved in our communities and helping to alleviate some of the pressures on GPs and hospitals.
Ulster Star
22/10/2010