Alan Lowry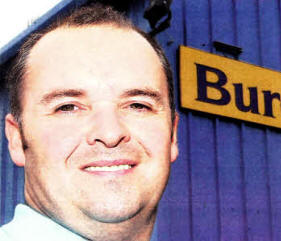 ALAN Lowry, 40, is Managing Director of Environmental Street Furniture, a trading brand of Burdens Ltd who recently opened premises in Altona Industrial Estate. Alan has worked with ESF for 11 years and is married to Caroline with two children Alana (15) and Courtney (11). Although based in Lisburn and Newtownabbey, Alan spends most of his time travelling between their UK and overseas sales offices. Alan is a Christian and he and his family are all very involved in their local Elim Church.
Alan has previous history in the Lisburn area having been general manager of Walter Allen Ltd in Young Street back in the late 1990's.
ESF was founded in East Belfast in 1988 and since 1999 has been part of Burdens Ltd, a Bristol based supplier of civil engineering and construction products with over 50 locations in the UK and overseas offices. Alan joined ESF when the take-over happened and has been at the fore-front of the continued success they have enjoyed over the last 11 years.
It's not easy to describe a typical day in my life, as it happens I have just returned from a six day visit to Washington DC where we were presenting out products to over 5100 landscape architects at their annual conference and Expo. A few years ago I was flying over 200 flights a year, mostly to the UK and that was very tiring, but necessary to ensure the success we are now enjoying. That meant two - three days a week I was up at 4am to the airport and usually didn't get home until 11pm or midnight. I was younger then and more able to cope with the sleep deprivation.
However, since we opened our overseas offices I now spend a lot of time out of the country with regular visits to our sales offices in Dubai in the Middle East and Newark in the USA. We also have offices in Perth and Melbourne in Australia These tend to be five - six day trips and are very busy and tiring.
I couldn't do the work I do without a great team around me and the ESF team is so dedicated to their jobs and diligent on every matter and my family is also very supportive as well, it makes it so much easier for me to succeed.
We opened our premises in Lisburn in May 2009, to operate in conjunction with our existing depot in Newtownabbey. We employ over 20 people locally and the recent economic slowdown has affected the construction business the worst, so it has been a challenge to ensure we can keep our existing level of staff and ensure a sustainable future for them.
Our Lisburn Burdens depot is open to the public and always has plenty of bargains on gardening and power tools. We recently launched 'our purpose built permanent street furniture and exterior lighting display venue. This means we can invite potential clients over to the venue to see for themselves the type of products we supply. The market has changed and people want to see what the products are like so if we have representations available this means we are able to cater to this demand.
As well as dealing with customers I have a lot of contact with our suppliers too. They will contact us about representing their ranges and then once we have agreed to stock the products I have to set approving and testing their products and adding them to our product range portfolio which includes organising literature and updating our web-site. In my spare time I am just as busy doing things with my family, attending church events and overseeing a charity called Zimbabwe Orphan Care which I am Chairman of.
My job has given me the opportunity to see the world, and get a better understanding of how different counties can all work together to achieve a common goal. I really enjoy my job as anyone who does this type of work will tell you, if you don't love it you would never do it.
Ulster Star
24/09/2010