Jenny Monroe talks to Amanda Kirkpatrick,
events organiser Down Royal Golf Course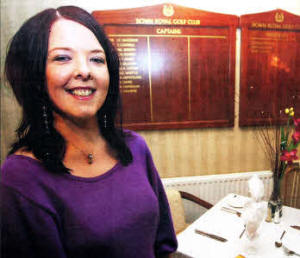 Amanda Kirkpatrick, 30, from Lisburn, works at the Down Royal Park Golf Course at the Maze as an Events Organiser. The course lies within the perimeter of Down Royal Race Course which was granted a Royal Charter in 1684 by James II.
Amanda has a degree in events management and enjoys working in the hospitality business. She joined the Golf course in November last year and says her new role is her calling.
I generally wake up at 7am and get ready to be in work for 8.30am. As well as my main role as events organiser I am also responsible for the reception area and am the front of house face.
When I arrive one of the first things I have to do is check the course, making sure it is playable. If there are any issues I contact the green keeper.
I then set up reception and check what bookings have been made for the day. I go through emails from people maybe enquiring about bookings for events or wanting to find out more about our room hire.
I man the reception, speak to visitors and organise people going out onto the course. Then when I get a chance I work on my main role of organising and planning events. Essentially this is what I was brought in to do - develop the Golf course's social calendar.
At the moment there are around two events planned per month which is great. I love this side of my job. I am planning lots of different events ranging from pub quizzes, to wine tastings, bar promotions and golf days. I'm currently organising a Charity Golf Day for Tiny Life which is a great cause and something that I really enjoy doing.
The Clubhouse is very family orientated and I am trying to promote this to the local community. I am working on campaigns to let people know that we are fully open to the public for Golf, food and drink. My aim is to attract a whole range of different people.
The past few months I've been working on advertising plans to develop our social calendar with Bill McCappin the General Manager of the Golf Course.
When I come up with ideas I go over them with Bill, then we call a meeting with Gareth (the restaurant franchisee and head chef) and Julie (the restaurant manager) and finalise everything, and I can go ahead and get organising.
As we are fully open to the public I get to organise all the social and charity events and private functions for the Course and Club house which keeps me busy and challenges me on many levels.
My job is really all about mucking in. If the bar is short staffed I could be serving drinks and food. I am good at multi-tasking which is definitely required in this role.
I am a people person who enjoys working with the public so I love seeing new faces coming through the doors.
We've been busy renovating and redecorating the place so getting positive feedback too is great. This is my dream job.
This is a fabulous opportunity for me. It's not only a great place to work but is also very interesting and keeps me on my toes. It definitely suits me down to the ground.
When I finish for the day I like to relax at home or go spend time with my friends and family.
Ulster Star
02/04/2010