Ashley Fulton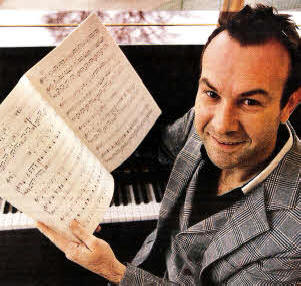 ASHLEY Fulton, 38, from Lisburn, is well known within the local music industry. He has worked professionally in Music Theatre and singing for the past ten years as an award winning performer, vocal coach, director and musical director. His theatre credits include Grease, South Pacific, West Side Story, and Jesus Christ Superstar to name a few.
He has worked extensively as a soloist throughout the UK including a tour of Night At The Musicals and a tour of Big Band Hits- Ashley has been a tenor soloist for many performances of classical works and his extensive repertoire includes, Messiah (Handel), Requiem (Mozart) and Nelson Mass (Haydn). He has produced and directed productions of Fame (Wallace High School), My Fair Lady (Friends' School, Lisburn) and most recently West Side Story (Friends' School).
Ashley is currently responsible for Music Theatre within the Performing Arts Department of Belfast Metropolitan College, as well as and producing and directing his annual showcase of Music Theatre- He is vocal coach in Friends' School Lisburn director of the Friends" Singers and has produced and directed the past two school musicals.
When I am teaching and lecturing my day starts at 8.30am. I will either be at one of the schools where I teach giving individual singing lessons or at the Belfast Metropolitan College where I lecture larger groups. My work includes working with people's voices. This means training them to use their voice properly, singing with technique and advising them on how to be vocally in control. I help them with diction, articulation, release of tension and restriction, interpretation of songs and becoming a character. Basically I cover every aspect required for performing in musical theatre. I push and hopefully inspire the students to achieve their full potential. Many of my students complete London College of Music, Music Theatre and Singing exams with many pupils gaining the highest UK results in grades and diplomas. My student results are in the top 10% in the UK with many receiving 100%. In the summer of 2009, ten of my students reached the semi-finals of the National Voice NPAC to find the best Music Theatre performer in the UK. Six reached the finals with 3 taking the top places.
At present, I have many students studying at Mountview Academy of Theatre Arts, Guildford School of Acting, Italia Conti Academy of Theatre Arts and The Royal Scottish Academy of Music and Drama. I am always very proud when my students fulfill their potential.
Once I finish teaching during the day, I then give individual singing lessons, work on musicals I might be directing and at the moment I am busy with the Adoro Christmas concerts. Adoro is a small group of 18 pupils who perform at exclusive events and concerts. I am always on the go and constantly being involved in musical events.
I always like to take a fresh approach to the work I do. This is very important for the students and audiences. I believe productions should be new and fresh. I always try to get the cast to think differently about their characters and try to stretch them far beyond what they thought they were capable of.
I am very passionate about my work and am always proud when my students get into theatre school. It is a very competitive industry. I am very fortunate to be able to do what I love so much. I do have an active and busy lifestyle but it really doesn't feel like hard work as I'm doing what I love and know best.
Ulster Star
03/11/2010