Jenny Monroe talks to singer/songwriter Barry Fleming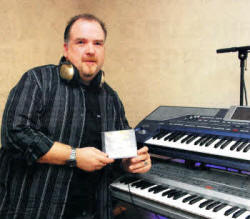 BARRY Fleming, originally from the Hillsborough Road area, is a singer/songwriter/producer. He has had an interest in music from as early as he can remember. While growing up, every Saturday morning he would be woken by the sounds of his sister playing the latest chart releases. His father also had a vast selection of records, most of which covered a 'country' theme; and on occasion - when he could get near the hi-fi - he was also granted the pleasure of listening to a very different type of musical experience. After buying his first keyboard around the age of 14, he no longer had to rely on what was playing on the family hi-fi - he could make music of my own, and he loved it. Barry sent a collection of some of his work to Gerry at Radio Ulster in October last year. The title track 'Household Honey' quickly became one of the most requested songs on Anderson's radio show and continues to get extensive airing.
Most of my inspiration happens at night so I have a tendency to sleep during the day and begin work in the evening. I usually start some time around 10 pm - this is when I seem to get my best ideas. I normally spend about 8-10 hours in my studio writing lyrics and composing music as well as updating my website and answering emails from people asking me about my work. As any songwriter will tell you; sometimes you get an idea and create a finished 'work', and at other times there's nothing.
I never learned to read music so every song I had heard could be brought from memory and onto the keys - something my family and friends were impressed with from the start. My family have always been supportive of what I do - in fact it was my mother who bought me my very first microphone, even before I had the nerve to sing in public. She always believed I could do it, and in the early days her support was tremendous.
I now have a home recording studio and produce, write and arrange all my own songs from start to finish using some of the latest technologies. With regards to my music, my song writing is the most important part of my musical career. Not only is it very personal to me, but I find that after someone has listened to it - it becomes very personal to them also, on whatever level they wish to place it. In many ways, this is what my music is all about. I believe my song writing comes from years of growing up listening to a wide variety of musical styles and tastes. When this is added to my own style of song writing I seem to achieve a result that a variety of people can relate to - and this is important to me. My songs have now gained some quality airplay and reviews on local radio stations and newspapers, and although hugely different in style and nature, all were written and produced by myself, something I take great pride in. It has taken many many years for
my music to reach this stage, and I hope people will enjoy listening to it in the privacy and comfort of their own surroundings. As well as my songwriting I do give advice to a lot of other bands when asked. I find there's tremendous talent over here but just not enough opportunities. I'm also a fully qualified psychotherapist and I do voluntary support work when required.
I feel very fortunate I work in areas I am so passionate about. The long hours in the studio are worth it when I am able to create songs that are appreciated by others. When someone I don't know tells me how much they have been affected by one of my songs - it means a lot.
. . Anyone wanting to contact Barry, or just find out more about him, can contact him via his website at www.Barryfleming.co.uk
Ulster Star
12/03/2010